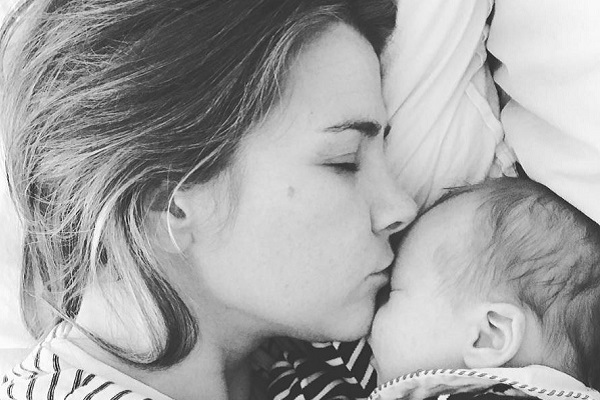 This week hasn't been easy for McFly star Harry Judd and his wife Izzy Judd. Yesterday, the mum-of-two revealed that their son Kit had been hospitalised but didn't expand on the young boy's illness.
Izzy has since opened up about the traumatic experience. She revealed that Kit has bronchitis: "Poor little man has bronchiolitis, a really nasty virus so needed help with his breathing and feeding."
The author shared that earlier in the week Kit was struggling to breathe, she revealed that her only option was to phone an ambulance.
She wrote, "On Tuesday morning I was home alone with Lola when Kit suddenly deteriorated and started struggling for breath."
Luckily, the paramedics arrived swiftly after Izzy's call, but the mum admitted she was petrified, "I was terrified. The paramedics arrived within minutes, however, those minutes were the longest and the worst of my life."
Izzy went on to praise the NHS for taking such great care of her young son. The team at the hospital diagnosed her soon quickly and treated him with a great deal of care.
She thanked the staff, "A very frightening experience was eased by a very kind and reassuring nurse who held my hand when my little boy was very distressed."
As a mum, there is nothing more harrowing than seeing your tiny tot in hospital. It can make you feel helpless. Izzy extended her love and support to parents who have sick children in hospital.
"I'm sending love and strength to all the parents out there with poorly bubba's tonight."
Thankfully, the Judd's have returned home after what has been an extremely hard week. Izzy shared her gratitude for the wave of support she received throughout the past couple of days.
"There's no place like home. Thank you so much for all your caring and comforting messages."
Being surrounded by her family is exactly what the violinist needs after the ordeal. She noted, "We are now home and I'm trying to recover from the trauma."
Fans were overjoyed to hear that little Kit was on the mend. One commented, "Sending lots of love Izzy, such a scary time for you. Wishing little Kit, a speedy recovery."
One mum empathised with Izzy, "My youngest had this at 5 months old. Was terrifying! Glad your little one is ok now."
Another woman encouraged Izzy to look after herself: "Take care and ensure you look after yourself as well. The little ones need their mummy."
We are delighted to hear that Kit is feeling better. Izzy is such a strong mum!