Jenelle Evans has shared photos of her five-year-old son Kaiser and 11-year-old daughter Maryssa as her two children head to school for their first day of kindergarten and 7th grade.
The 27-year-old Teen Mom alumni captioned the Instagram post; "First day of school. These kiddos are getting so big, so fast! #BittersweetMoments #Motivated #SchoolDays."
Evans shares Kaiser with her ex-boyfriend, Nathan Griffin, and David Eason shares Maryssa with his ex-girlfriend Whitney Johnson Rich. Both kids brought big smiles for the photos.
The kids wore their school uniform and held a first day of school chalkboard sign, looking adorable.
5-year-old Kaiser wrote that he wanted to be a police officer when he grows up on his sign, while Maryssa put veterinarian on hers.
It's an important moment for Evans and Eason, who are also parents to two-year-old daughter Ensley. Nine-year-old Jace is Evans' child whom she shares with her other ex, Andrew Lewis.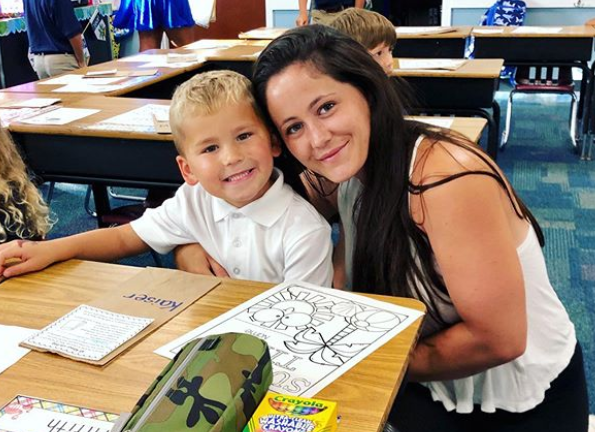 Evans also uploaded shots of her and Eason with Kaiser in his classroom, writing; "At his new desk like a big boy in Kindergarten," Eason wrote. "But he's still Momma's boy."
Jenelle and David temporarily lost custody of the children two months ago after Eason allegedly shot and killed their French Bullog, Nugget, after he bit Ensley in the face.
According to E! News, they regained custody of Ensley and Kaiser on July 3. Evans's mum, Barbara, currently has custody of Jace, while Maryssa is in the custody of her mum; Whitney Johnson.
"I am ecstatic to regain custody of my kids back!" Evans told PEOPLE at the time. "Throughout this long process and final decision, I am excited to be moving forward and continuing to show America I'm a good parent."
It's still unclear what actually happened to their dog, Nugget. Evans filed an animal cruelty report against David in May, saying her husband shot and killed the pup.
However, investigations by police were unable to gain any physical evidence to back up her claims, meaning charges against Eason were never filed.
Police allege Evans made up the story "for publicity", which she strongly denies.
Feature image: Instagram/@j_evans1219