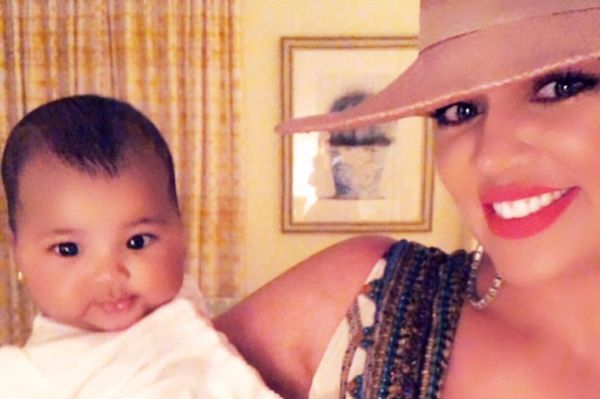 Since having daughter True four months ago, Khloe Kardashian has kept fairly out of the limelight, wanting to enjoy this happy time with her daughter away from the media glare.
The run up to True's birth was also a difficult time for the new mum, whose personal relationship with partner Tristan Thompson was subject to huge attention. The reality star released no statement at the time, but had much support from her sisters as she prepared to welcome her daughter to the world.
Thankfully, much of that dust seems to have settled and Khloé and Thompson are enjoying their first holiday together as a now family of three.
The parents embarked on their trip and have since kept busy sharing photos of their adventures on what appears to be a tropical island.
In photos shared to Khloe's
Instagram
Story, the adorable tot is pictured in a pink sun hat with her proud mum beside her and she also enjoyed her very first swimming lesson.
And even her doting dad was impressed by his daughter's style; True modelled a pink sun hat while her dad cooed over her.
Sep 4, 2018 at 11:43am PDT
The couple appeared in other videos on the photo-sharing app, taking in the sights and wildlife, while also enjoying the quality time together.
Jun 13, 2018 at 6:29am PDT
And even though she's enjoying some downtime, Khloé recently revealed she felt anxious at the thought of
leaving her daughter
to return to work.
"I don't know how I'm going to leave her all day tomorrow. That's freaking me out. But I got to go back to work at some point. I'm anxious to leave True but also eager to get back to work now that I have a new push and motivation. It's not just for me anymore."