Winter is well and truly here and now more than ever it is so important that we look after our immune systems, so why not put your best foot forward with Revive Active's award-winning super supplement. Revive Active is one of Ireland's best loved super supplements for many reasons. It's specifically designed to support your family's immune systems and energy levels, they are celebrating 10 years on the market as an effective and efficient method of protection from vulnerability to this colder weather.
The ingredients included in Revive Active are specifically formulated for busy families with a full calendar. With the world reopening and seemingly returning to normal, we're more exposed now than we have been in quite a while to each other and the dangers of being run down. The kids are back in school and all their activities, we're back catching up with friends and our social lives and in the midst of all that, it's our job to be sure the whole family stays safe and supported.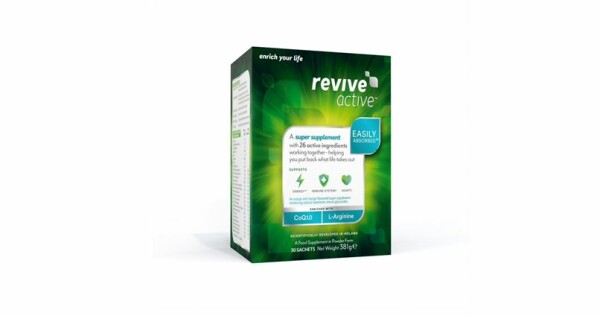 What stands out to mums everywhere is that Revive Active has a unique formulation of 26 active ingredients which includes vitamins, minerals and amino acids to help parents, just like children get the best support for their busy and active lifestyles. Designed to support your energy levels, immune and nervous system, heart and circulatory system, it's all about making sure you all stay at your best this winter.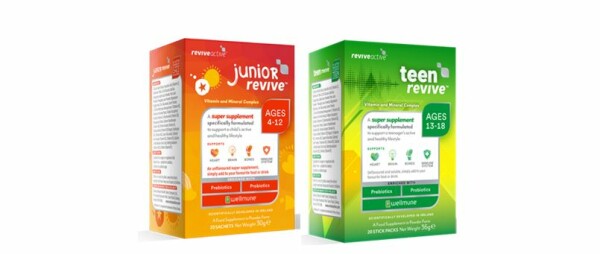 Just like grown-ups, children need any extra support that can be given, in addition to a balanced diet and healthy lifestyle. Revive Active have Junior products to support your growing children's needs. Junior & Teen Revive and their range of award-winning products are formulated as a premium super supplement rather than a multivitamin. Scientifically formulated to support the heart, bones, the immune system and brain function. Junior Revive is created specifically for children aged 4 to 12 years old and Teen Revive is for those aged 13 to 18. Revive Active understand it can be difficult for children to take supplements and so their powdered supplement is unflavoured, making it much easier for you as a parent to add to your morning routine whether it's in a smoothie, juice or even cereal.
Revive Active supplements are all scientifically formulated which means that they're free from binders, fillers, and colours to ensure you and your child are getting the best support to your diets. Unlike many existing supplements that come as a tablet or in chewable form, Revive Active contains a combination of ingredients in powder form. They therefore offer high quality ingredients in a powder form for quicker absorption when diluted and taken as a drink.
It is no wonder Revive Active are an award-winning company with Revive Active winning Best Irish Pharmacy Brand Product of the Year 2021 and Junior Revive voted Best Kids Supplement 2021 in this year's Mum & Tots awards! Revive Active is supported by Love Irish Food and Guaranteed Irish, which means you know you're supporting local and ensuring your family get the best care possible this winter.
Brought to you by