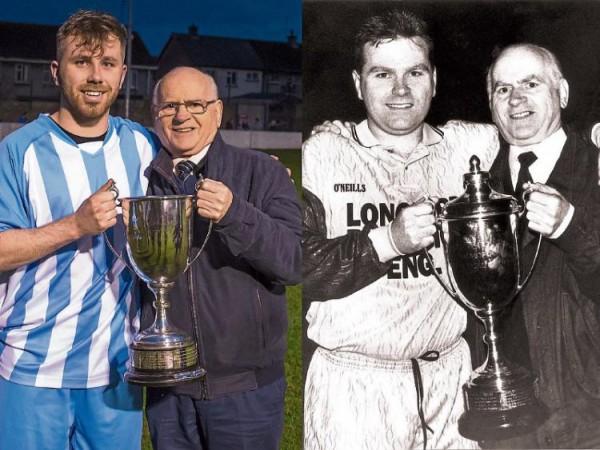 A Limerick man has paid tribute to his father - by winning the same trophy his dad won 20 years ago.
Caherdavin Celtic FC B-team faced Shelbourne B in the Open Cup Final this month, going on to win the cup - a feat not seen for 20 years.
20-year-old student Rioghan Butler lost his father on March 31, after Des was fatally injured in a cycling accident. He pushed on to play with his team mates, who took the cup in a surprise win.
His father, Des Butler, had played on the winning team in 1996/1997, and posed for the monumental moment with his father. Rioghan honoured his late father by recreating the black and white photo, standing with his grandfather and holding up the trophy.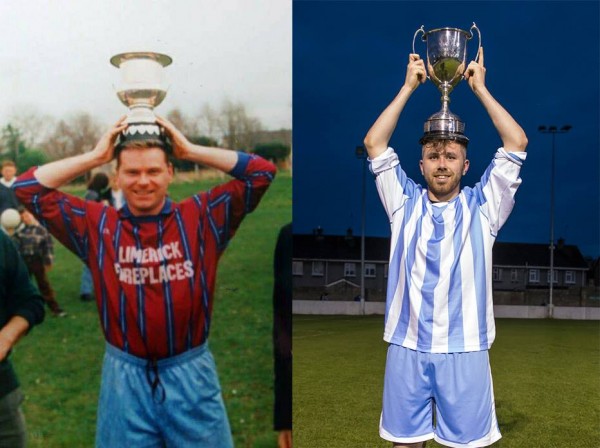 Rioghan said that winning the cup so soon after his father's death was an "amazing coincidence", which took the team and the family by surprise.
"It was just an amazing moment," Rioghan told the Limerick Leader.
The team decided to break tradition by allowing Rioghan to lift the cup instead of captain James Wallace. Rioghan recreated this moment as well.
A spokesperson for the club said it was a "special moment to give Rioghan Butler the honour of receiving the trophy". They said it was a decision which all the team could be proud of, the Leader reports.

Rioghan described his father as 'his idol and best friend'.
Des Butler was a respected member of the Caherdavin community. The 50-year-old was fatally injured while cycling on the N18 Limerick to Galway road on March 31.
Mr Butler was employed as a compliance manager with Equinix, an American multinational company headquartered in California, which specialises in enabling global interconnection between organisations and their employees. Through his work, he was nominated last year for an award under the Business Continuity Institute's 2016 European business continuity and resilience awards.
Declan Moylan, the chairman of the club, spoke to the Limerick Leader of the devastation felt by the football club and wider community following his death: "He played with Caherdavin all his life and was a former committee member. He was just a super guy, and this has really shocked the club and the community.
"He is going to be very sadly missed by all of us. He was just an all-round top guy," said Moylan.