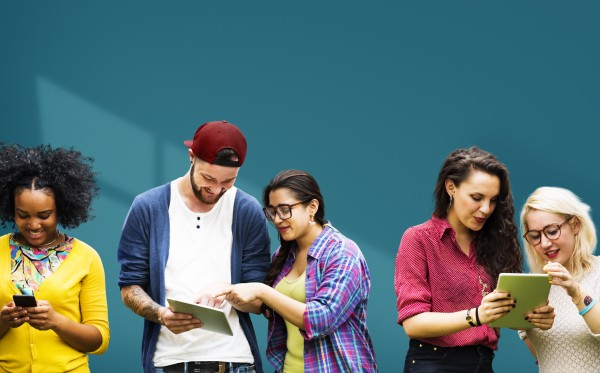 Over a quarter of teens in the U.S. on social media are taking a break to 'reconnect' with people, according to a new study.
While 78 percent of social-media-using teens say that social media makes them feel closer to friends, 37 percent admitted to taking a voluntary break from social media to spend time on other activities or socialise better with people offline.
The study was conducted by the Associated Press and National Opinion Research Centre (NORC) at the University of Chicago. It surveyed 790 teens aged 13-17, to gauge their feelings on social media and what happens when they stepped away or had access taken away.
58 percent or 458 teens said they had taken a break from social media. 65 percent of this number said it was voluntary, while the other half said they had been forced to take a break.
Of the teens who had taken a break from social media, the majority reported feeling positive about their time away. They expressed happiness at having more time to do other things, were glad to have a break, felt relief, and felt connected to important people in their lives. 23 percent said they had considered or wanted to take a break. However, these breaks didn't have much of an impact in the long run. Most teens who left social media did so temporarily, while 53 percent said that nothing really changed as result of their break.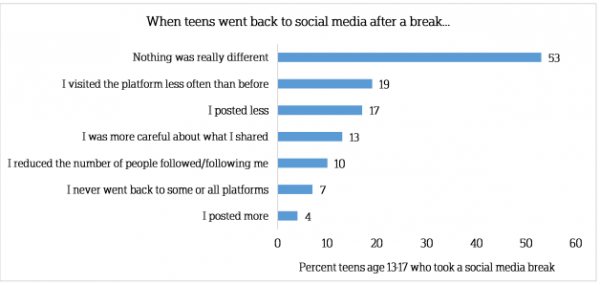 Forcing your teen social media use can do more harm than good
Teens who took involuntary breaks from social media felt anxious and disconnected from their peers and current affairs. Reasons for this included parental intervention (38 percent), losing their phone or having it stolen (17 percent), or losing connectivity while they were at camp or on holiday (4 percent).
Study author Amanda Lenhart told the Washington Post: "The side-effect of that is taking away from potential emotional support and from access to information.
"That's not just what's happening in friends' lives, which is one component but also hard news, current events and that type of information."
Most teens overall had positive feelings about the role of social media in their lives. 78 percent said they felt closer to their peers and friends, while others said they felt closer to family (42 percent ). Half of the respondents also reported feeling more informed and plugged into the wider world (49 percent).