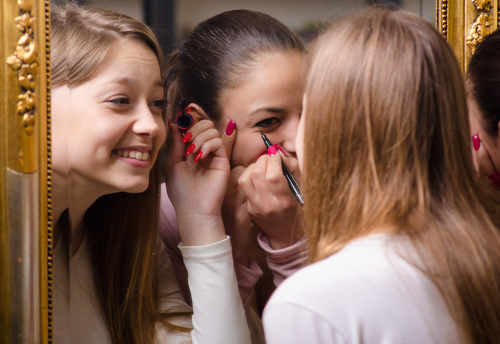 It can be difficult, to decide what age is appropriate for your teen to start wearing make-up. Some parents would prefer their daughter not to go near any of it. But in the majority of cases if your teen daughter is determined to wear make-up, she will usually find a way. So, it's best to be upfront about the topic from the get go.
School Rules
Some schools have a strict no make-up policy, which could make the decision about your daughter wearing make-up, a lot easier for you. But most schools allow make-up, but only to the extent of natural colours and usually just foundation. If that is the case, it is more important that your teen gets proper instruction on what shades best suit them.
Build Confidence
Your teen's skin can unfortunately be unpredictable during the teen years and make-up if not removed properly, can definitely increase chances of acne. But if your daughter suffers from extreme forms of acne; they can become very insecure about their appearance. Make-up can help boost your teen's confidence, when it comes to their appearance. If you daughter does suffer from acne, make sure to pick products that are sensitive to her skin. But it still important that you instruct your daughter, how to remove make-up properly, as it will make their acne worse if any traces remain.
Exfoliate properly
Just as it is important to teach your daughter about how to apply make-up properly, you still need to instruct your teen on how to remove it. Your teen needs to develop a routine when it comes to make-up, which could vary from removal wipes to cleansing, toning and moisturising their face properly. Sometimes it can be good to go to an expert about what product can suit your teen and buy some testers. If your teen sticks to a schedule when it comes to their make-up removal routine, they should be able to avoid acne break outs.
But most importantly remind your daughter, that it's sometimes ok to go a day without make-up. It will not only be good for her skin, but can also go a long way to boosting her confidence when it comes to her appearance.