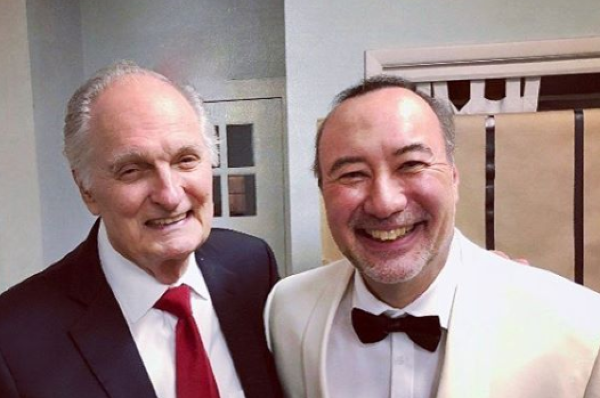 The award-winning actor Alan Alda has opened up about his diagnosis of Parkinson's disease.
The 82-year-old was given the news of his illness three years ago.
Alan has starred in M*A*S*H as doctor Hawkeye Pierce and presidential contender Arnold Vanick in West Wing, told CBS This Morning:
"I've acted, I've given talks, I help at the Alda Center for Communicating Science at Stony Brook, I've started this new podcast.'
A "thumb twitch" was the only symptom Alan is currently experiencing.
However, he has chosen to announce the diagnosis in order to give own account of living with the illness, before the press did.
Alan explained: "I thought it's probably only a matter of time before somebody does a story about this from a sad... point of view, which is not where I am."
The actor has been married for 61 years to his wife Arlene, who is a photographer.
The couple share three children together.
Parkinson's disease is the second common chronic neurodegenerative disease after Alzheimer's disease, and it is progressive and disabling in its development.
People with Parkinson's do not have enough dopamine, because some of the nerve cells that are responsible for making the chemical have died, says Parkinson's UK
Scientists are yet to discover a cure.
The Parkinson's Association of Ireland explains that there are both Motor and Non-Motor aspects of Parkinson's disease.
Motor symptoms include tremor, stiffness, slowness, stooped posture and an unsteady gait.
The non-motor symptoms are often more distressing and include, but are not limited to constipation, depression, sleep disturbance, anxiety, and decreased sense of smell.
Many of the Non-Motor symptoms can be present for up to 20 years prior to diagnosis, according to Parkinson's Association of Ireland.
The disease is estimated to affect 9,000 people in the Republic of Ireland.
There is a wealth of information to aid those living with the illness and research is being conducted to search for a cure.