With the revelation that a whopping 76% of us would rather dine out at a restaurant that promotes and serves local produce, it's only right that we share the hidden gem that everyone is talking about this week.
Rua Deli, Bakery & Café in Castlebar, Co. Mayo has been awarded one of Bord Bia's top accolades, being chosen as the Just Ask Restaurant of the Year 2016.
The Just Ask scheme was devised to encourage engagement between restaurants and local suppliers, and to help promote local produce, so this is a major coup for Rua.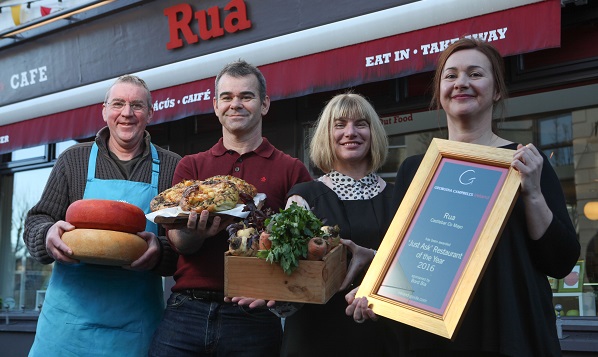 The coveted title was awarded in recognition of the restaurant's support of local food and drink suppliers around Mayo with products and ingredients including meats, cheeses, jams, chutneys and vegetables.
Explaining the approach to local produce at Rua, Aran McMahon said: "We use numerous blackboards to announce various dishes of the day and afford respect to proudly named suppliers. Local Mayo farmers supply our beef, lamb and free range pork, and we source our fish from six different seafood providers on the west coast. Local herbs and vegetables are supplied by our local rural training scheme, our own poly-tunnel, and other local suppliers."
Are we the only ones hungry after reading that?! For more information about Rua, check out www.caferua.com.