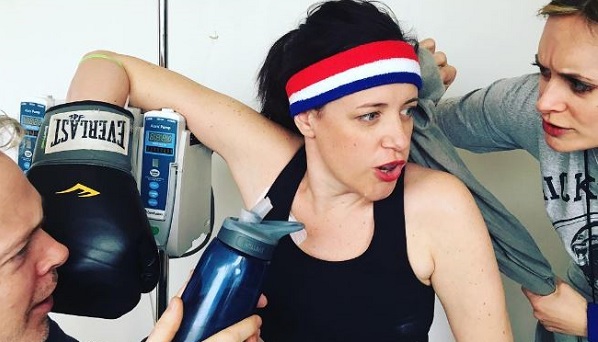 Sometimes we'll think we're having a bad day and moan our way through the morning; then, we'll come across a story, like that of Karen Walsh, and wonder what we were complaining about in the first place.
Mum-of-two Karen, from New York, has inspired people all over the internet today, after sharing the story of her battle with cancer.
The 40-year-old was diagnosed after experiencing cramps beneath her ribs last September. Shortly after, she began her treatment for cancer, which originated in her colon but spread to her liver and lymph nodes.
Karen immediately decided that she was not about to be beaten down by her illness and, facing into chemotherapy, she concocted a creative way of getting through her treatment sessions.
Inspired by her favourite movies, plays and characters, Karen decided to create a series of hilarious but empowering photos for each round of chemotherapy.
From Game of Thrones and Rocky to Star Wars and Forrest Gump; Karen has channelled some classics in her amazing photo series, which she shares via Instagram.
In an interview with Today.com, Karen admitted that while she doesn't like posing for photos, this was something she felt she needed to do.
"I was scared, and I think that prompted me to want documentation for my children, just in case – as dark as that may sound," she said.
Of course, the photo production plays another important role: "It was, and continues to be a great diversion for me while sitting in an infusion centre. It's fun. Time passes quickly."
We're wishing Karen all the best with the rest of her treatment; we truly hope she makes a full recovery.
SHARE to spread Karen's inspiring photos and attitude far and wide.