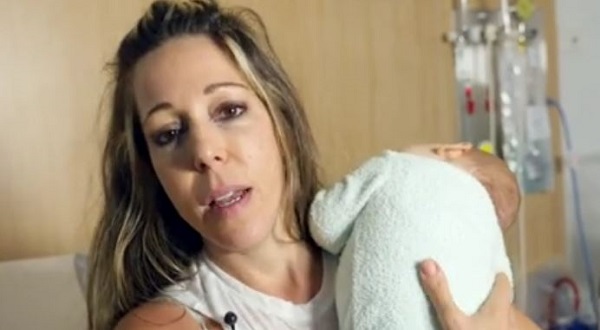 A mum has shared an emotional and raw plea to pregnant women, to protect themselves and their babies by taking the whooping cough vaccine.
The video, which has gone viral all around the world, was posted on the Gold Coast Health Facebook page, and tells the story of mum Cormit and her infant daughter, Eva.
In the footage, Cormit explains how she has been in the hospital with Eva for the past three weeks, after they both contracted whooping cough.
Cormit had been offered the whooping cough (pertussis) vaccine at Week 28 of her pregnancy but, as she felt healthy enough without it, she turned it down. She says she went on to contract the condition during the last two weeks of her pregnancy.
She, herself, went to get checked out over the 'slight coughing', but what happened next with Eva turned out to be a total 'nightmare'.
The tot contracted whooping cough too, and, Cormit recalls: "Within two weeks, the cough became pretty scary…coughing to the point of going blue, flopping in my hands, can't breathe, running to hospital."
Little Eva ended up in hospital, in intensive care, and the struggle is ongoing as she fights the condition – she is constantly crying, has trouble eating, and has been coughing to the point of going blue.
Expressing her regret, Cormit tells the camera: "Even me; the bullet-proof lady, who's never been to a doctor, travelled the world and felt healthy, got the whooping cough…If I could turn back time, I would have protected myself."
Check out her powerful story and message below.
Cormit

'If I could turn back time I would protect myself.' Cormit's baby has contracted Whooping Cough. Watch this clip to hear the first-time mum bravely talk about her decision to opt out of vaccination during pregnancy and how hard it is now coping with her new baby being so unwell. For the facts on Immunisation go to http://bit.ly/1PJ6Cc0. #vaccinationmatters #immunisation #preventabledisease #GoldCoast #publichealth

Posted by Gold Coast Health on Monday, April 4, 2016
SHARE to raise awareness for other mums and mums-to-be.