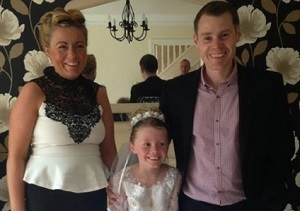 A brave mum-to-be has appealed to the public to aid her in her fight to survive and see her unborn child grow up.
Margaretlee Hilton, from Belfast, has been diagnosed with terminal cancer, with medics telling her that the best-case scenario is for her to deliver her child via Caesarean-section at 28 weeks, and then return home to die.
However, the brave 33-year-old is determined to try everything within her power to prove the doctors wrong, and to see her unborn child grow up.
Margaretlee and her family believe that an alternative treatment offered in Mexico could prolong her life, and the Hiltons have issued a desperate plea to the public to help fund the treatment.
The family are hoping that, with this alternative treatment, Margaretlee will be present for her child's early years. Margaretlee and her family need to raise €40,000 to send her for the potentially life-changing treatment.
Margaretlee, who is four months pregnant, was diagnosed with terminal pancreatic cancer back in February, just shortly after discovering that she was pregnant.
Speaking to the Irish Independent, Margaretlee said: "I don't just want to give birth – I want to be there to see my baby's first smile, to see it crawl, take its first steps, says its first words and maybe even be there for its first day at school. That would mean the world to me. It's all I'm asking for."
This is beyond heartbreaking. We wish Margaretlee and her family all the best with their campaign.