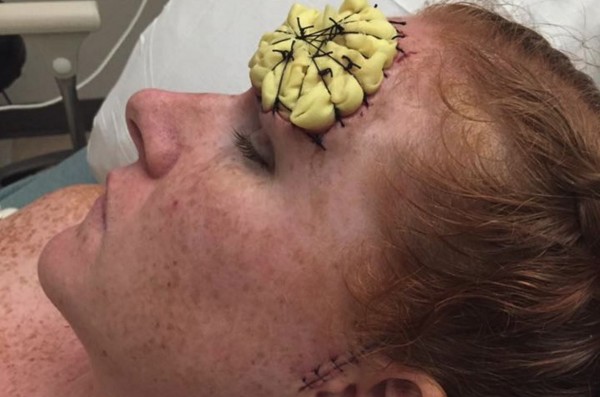 We are always advised to be vigilant for changes to our skin and body, and to get a second opinion if we are concerned. Bethany Greenway's story has driven that story home for us this week.
The 39-year-old, from Texas, has shared the story of how she beat the skin cancer she initially mistook for a pregnancy symptom.
It was 2014, during her second pregnancy, that Bethany first noticed the dark spot developing on her forehead. She put the change down to the fact that her changing body was producing more hormones.
When the spot didn't disappear, Bethany decided to get it checked out. She was initially told that it was a simple liver spot, but a biopsy in 2016 revealed the truth.
Bethany, by that stage a mum-of-two, was diagnosed with stage 3a desmoplastic melanoma, a rare form of skin cancer.
Over on a Facebook page specially set up to document her journey, Bethany shared a close-up of the cancerous area on her forehead.
"The centre mole-looking thing is a nasty form of skin cancer called desmoplastic melanoma. The surrounding liver spot area is just plain old melanoma," she explained.
"Yeah, this spot on my forehead showed up during the last bit of my pregnancy with Arabella, then the moles in the centre appeared about a year or less after she was born."
Thus began a long road to recovery, with medics removing the offending mole and using a skin graft to cover up the area.
Bethany went on to share photos of her healing skin graft, as well as selfies from the hospital, and didn't hold back with the more painful moments of her recovery.
Opening up about the toll a day of 'solo parenting' took on her body in one post, she wrote: "I had no idea how draining healing is.
"Honestly, my wound isn't huge or involve any major organs beyond my skin. I could run around after my kids all day at home and not even bat an eye. Today, I feel like I swam a 5K.
"All that happened was basic survival s**t, and I'm ready to collapse. Thankfully, my mum came back to lend a helping hand."
Bethany – who is also mum to Luciana – ended up also having to undergo immunotherapy and 30 rounds of radiation.
Thankfully, she beat the disease and is now sharing her story with the world in a bid to raise awareness of skin cancer.
"If seeing my pictures and reading about what I've been and am still going through makes one person put on sunscreen or go to the dermatologist and get checked, then I've done my job."
Fair play to Bethany – we're wishing her all the best with the rest of the journey.