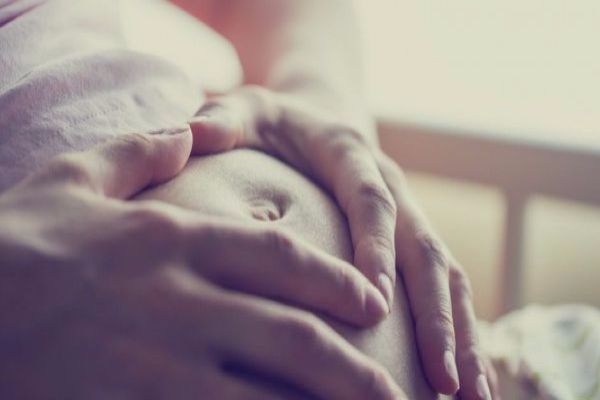 Jessica Brockie and Bec were always the best of friends, and the story of their friendship is both heartwarming and heartrending.
They grew up together in Townsville, even attending the same university.
Bec was born with cystic fibrosis, a genetic condition that mostly affects the lungs and digestive system. Jessica told KidSpot that her friend 'had to battle harder than anyone I knew'.
Years later, in 2016 when Bec was 28, Jessica noticed that her friend seemed out-of-sorts on social media.
Jessica had moved to South Africa due to her husband Jeremy's job and they'd become proud parents of two beautiful children.
She messaged her friend to see what was the matter, and Bec replied that she and her husband Gareth had just learned that because of her condition she couldn't carry a child.
The reality of this had just hit Bec. She and Gareth wanted to be parents so badly, and they needed someone to carry their baby.
Four months until my belly-buddy joins this world! So very privileged to be carrying this little guy! #surrogacy pic.twitter.com/TRj1USeISK

— Jessica Brockie (@jessicabrockie) 24 September 2017
"I can have babies, I'm good at that," Jessica replied over Facebook.
Jessica's husband was initially hesitant about the idea. Their youngest, Oskar, was only one at the time and she'd just stopped breastfeeding him.
A few months later, though, Jeremy warmed to the idea and said she should help her friend.
Bec and Gareth were ecstatic upon hearing the good news.
Halfway across the world, they carried out the necessary counselling sessions on Skype. The counsellor asked about every possible situation, including if Bec passed away.
Those living with cystic fibrosis have a life expectancy of 37, but they were confident that Bec would be around to watch her child grow up.
She was healthy and her wellbeing was closely monitored.
29 weeks today!! But this journey has been a lot longer in the making. Growing baby Arena is one of the most special things I've ever gotten to do! @JRBrockie #29weeks #surrogacy #surrogate pic.twitter.com/eMkoIjPXRN

— Jessica Brockie (@jessicabrockie) 8 November 2017
In May 2017, Jessica flew to Brisbane to have Bec and Gareth's embryo implanted in her uterus.
Two weeks later, she took a pregnancy test during a video call with Bec, discovering that she was pregnant.
Jessica documented every step of the pregnancy for her friend, who said she secretly was hoping for a boy.
16 weeks into the pregnancy, though, everything changed. Bec's health was deteriorating, and her lung infections weren't responding to the drugs she was taking.
Jessica had originally planned to fly back to their hometown for the 20-week scan, but her friend was so ill that Gareth asked her to return a week earlier.
When Bec became even more unwell, Jessica pushed her flight forward by a couple days and had a scan to ensure she was good to go.
It's always a nice feeling getting a baby to full term! There's so few surprises left in this world so I absolutely love this time when you have no idea when they're coming! #38weeks #surrogacy @JRBrockie pic.twitter.com/iPIERMveFm

— Jessica Brockie (@jessicabrockie) 11 January 2018
Gareth phoned before she was about to fly out, saying, "Bec's really bad, we don't think she's going to make it."
Through tears, Jessica told him that they would be parents to a baby boy.
Just as she was about to leave for the airport the next day, Gareth called her again, saying, "Bec's gone."
Jessica boarded the flight to bring her friend's baby boy to his mother's funeral.
As her baby bump grew in South Africa in the coming months, she reminisced about her friend who she missed so dearly. 
And just like that, Rixon James Arena has arrived in this world!
What an amazing journey to be a part of. Memories that @JRBrockie and I will treasure forever 

Thank you Bec & Gareth for letting our family travel this road with you. #surrogacy pic.twitter.com/3jsOSO28Hf

— Jessica Brockie (@jessicabrockie) 20 January 2018
Four months after Bec's passing, on January 20, Jessica gave birth to the baby boy in Townsville.
Bec and Gareth had picked their son's name before she died. They called him Rixon.
Jessica cuddled the baby boy as much as she could before returning to South Africa. She told her husband she knew Gareth would make a great father.
Little Rixon is now five months old and is as darling as ever.
Speaking to KidSpot, Jessica said, "Bec would be so proud of her two main men. Her family truly is her greatest achievement."