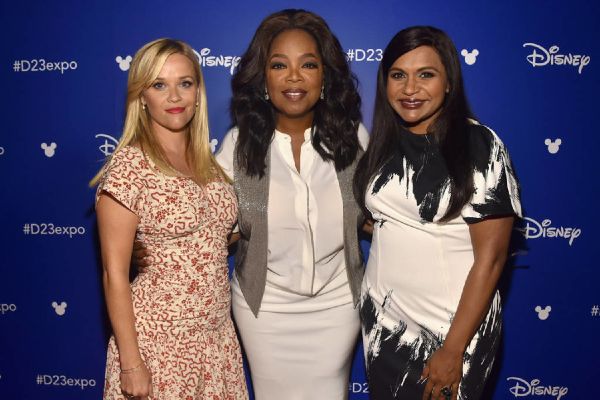 Life's been busy for new mum Mindy Kaling. Besides promoting her upcoming film A Wrinkle in Time and her new NBC TV show Champions, the 38-year-old is also caring for her two-month-old daughter Katherine.
"That's some work," Stephen Colbert said admiringly to the writer on The Late Show last night. Thankfully, though, Mindy has famous friends like Stephen by her side to lend her a hand.
Stephen and his wife Evelyn welcomed Katherine into the world with a gorgeous set of clothes from retailers in his hometown of Charleston, South Carolina. They were, though, a bit 'old-fashioned' in Mindy's eyes.
"This outfit is if I'm crossing [on] the Titanic with my baby hoping for a new future for myself, this is the outfit I put her in," the former Office actress quipped.
As well, Stephen was a bit outshone by Oprah Winfrey, Mindy's A Wrinkle in Time co-star, who really seems to have pulled out all the stops for this baby present.
"Oprah's present to me was a hand-carved bookcase packed with 100 of the essential children's books of all literature, and each book was inscribed with a little sticker that said 'Katherine's Book Club' - like 'Oprah's Book Club'," Mindy shared.
"The bookcase was carved in the shape of an old-timey castle. It's such a nice present! And yours was such a nice present," she said.
We aren't surprised Oprah is so generous, but we are still agog at how incredible that present sounds!
"[Your present] straight up sucks compared to what Oprah gave me, and I mean that with love," Mindy told Stephen.
After all, who can compete with 100 books? Ever the funnyman, the TV host shot back with, "We were going to do that. I heard Oprah was going to do it, so we did this instead."
Parenthood certainly has opened up a new chapter for Mindy. "It's really strange and profound," the comedian said of becoming a mum.
"I was not a kid person at all," the Inside Out actress confessed, "I was a person who, if you had a baby at a party, I would go up to them, shake their hand and be like, 'Hello!' I didn't understand how to be around babies.
"On planes when babies would cry, I would be mad at the families. Now I'm like, 'Let them cry! Let them do whatever they want! They can sit on me and poop if they want! Whatever they want!'"
She says that motherhood has also messed with her sleep schedule and that she'll randomly answer emails in the middle of the night (an activity we can definitely relate to).
"I'm up in the middle of the night with her, and then afterwards, it's hard to go back to sleep, so I'll just return e-mails and things like that," the mum-of-one told Stephen.
"I'll return e-mails and say, 'Thank you so much. I'm thinking of you. Thank you'. The next morning, people will be like, 'Hey, why did you send me an e-mail at 3 a.m. that said 'I am thinking about you'? You're like a weird pervert.'"
She added, "So, that's my life now. It's nice."
Yep, welcome to motherhood, Mindy! We can't wait to hear more laugh-out-loud stories from the talented writer.