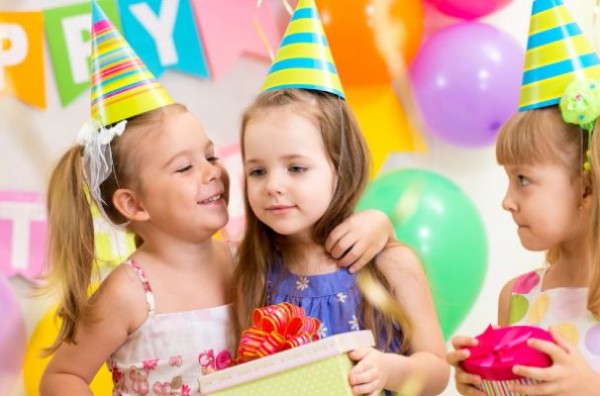 Their birthday comes only once a year, and you want to make it super-special – but don't make it hard on yourself! There is no better way to kill fun than to load the day with stress and anxiety. Remember, you are not on trial! Birthday parties can be a nice way to meet other parents, and watch your child interact with their peers.
Genie Juliette, of Genie Mackers, has been to hundreds of birthday parties. Here, she shares her top tips for removing the stress-factor.
1. Plan ahead
Fix the date and get your invitations out at least two weeks in advance, so that parents can arrange for their kids to attend. At Genie Mackers, we provide free printable themed invites. You can personalise your own invitations yourself by photocopying your favourite picture of your child, and getting your little one to decorate it with glitter and stickers. If you are not inviting the whole class, avoid hurt feelings by giving the invitations directly to the parents at the gate of the school.
2. Entertainment
Hiring a professional to entertain for your kid's birthday is a great way to have a stress-free day, giving you time to chat with other parents, and prepare food and party bags, all whilst watching your children have lots of magical fun!
By hiring a professional entertainer, you do not have to worry about the entertainment or all the little ones running wild around your house! It's always best to go with word-of-mouth recommendation or look up reviews online, and make sure you get an email from the entertainer confirming the details of your booking (making sure the entertainer sends them in writing to avoid misunderstanding that may occur over the phone) – another stress-buster!
3. Party planning
If you're planning activities or have an entertainer coming to the house, remember to leave 15 minutes for everyone to arrive. We all know how hard it is to get out the door with children in tow, and I have rarely been to a party where everyone arrives on-the-button. Activities like face-painting can be done while children are still arriving, but wait until everyone is there before starting the games or magic show.
4. Party house
Remember to put some balloons on the door so that anyone unfamiliar with the house will know they have found you. Put toys out of sight so that kids aren't distracted during the party activities, and remove any breakables from the room to avoid upset. Don't spend a fortune on decorations. A few balloons usually do the trick. For a cheap and fun activity, buy a packet of coloured paper and make paper chains with your little one.
5. Tooting terrors
Beware party blowers and party poppers! They may seem like a good idea at the time of purchase, but think twice before you bring these home!
The poppers blow confetti strings all over your living room, and you'll still be finding the little twists of paper for weeks after the party. The smaller kids aren't really able to pull them, some kids are frightened of the 'pop', and they aren't nearly as exciting as a stream of bubbles! As for the blowers, once little ones get their hands on these, they can't help but honk all party long – you will immediately regret handing such weapons of noise to excited children!
6. Gifts
Designate a corner of the room for the gifts, and don't allow your child to open them until the end. Quietly make note of each present so that guests can be thanked for their gift.
7. Feeding the lions
What day of the week is your party? If your party is over the weekend, feeding them at the end after the entertainment is over works perfectly and keeps a tidier house, too!
If you are having a midweek party, the children will be hungry after school, so it would be a good idea to feed them hot food when they arrive.
Unless you want your floor covered in a medley mulch of popcorn and sticky sweets, keep the treats out of sight until the very end. The cake is a great way to end a party, and it is best not to have the kids jumping about with food in their mouth, or sugared up for the duration.
8. Souvenirs
Party bags don't have to cost a fortune. Parents won't appreciate extra sweets after the party food, so pick up little pencils, rubbers and bouncy balls in the One Euro Shop instead. If you have an entertainer coming, ask if they do balloon-modelling – we provide balloons as part of our packages (unless otherwise requested); and the balloons can be made and given out at going-home-time, and are a great alternative to party bags!
A little bit about Genie Mackers…
Genie Mackers has professional, personal, reliable, fully-insured and trained entertainers on hand to make your little one's day extra special.
Choose a package, make your booking, and a magical genie, fairy princess, pirate or superhero appears on your doorstep with everything they need to create a fun-packed party in your living room or chosen venue: face-painting, balloon modelling, party games, magic, bubbles, sing along, dancing, puppets.
They cater for kids' parties in Dublin, Louth, Meath, Kildare, Offaly, Wicklow and Wexford.They also travel further afield midweek.
The Genie Mackers entertainers (as seen on RTÉ) are magicians, storytellers, actors, face-painters and balloon artists. Most of the Genie Mackers team are either artists, actresses or primary school teachers. Each children's entertainer brings their unique personality to the event, creating a different kids party experience every time.
For more information, check out the website through this link.