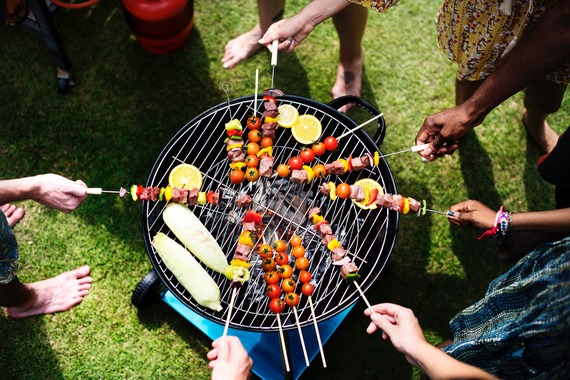 95% of Irish citizens describe themselves as either
"quite happy" or "very happy."
That is no surprise—Ireland is known for big personalities and a desire to have fun. This means that the Irish throw some of the best parties. With
good friends and good food
, a garden party is always a crowd pleaser, so here are some tips and tricks to make the most out of an outdoor party.
Manage The Weather
The first step for any successful party is planning and preparation. The guest list is the easy part—friends, family, colleagues, neighbors—there is a party appropriate for any of them. However, that's just a step in the right direction. Don't forget to consider the weather, as it will have a major effect on an outdoor party. Have a contingency plan in case of rain or wind, and look into fans and heated lamps to keep the party at a comfortable temperature. Similarly,
retractable awnings provide welcome shade
when it's still bright and sunny out.
Setting Up The Fun
It is also extremely important to provide enough seating for everyone, as no one wants to be forced to stand for the entire duration of the party. An open seating arrangement will
make things feel less formal
, and will encourage guests to mingle. This will also provide more space for entertainment during the party itself.
The next item on the list is arguably the most fun—decor. Decorating for a party builds anticipation, as a creative vision comes to life. With a garden party, a large portion of the decor should be lighting, so the guests feel inclined to stay even as it's getting late. String lights, torches, and solar powered garden lights will
make the evening magical
. It's also a good idea to supply citronella candles, as they work overtime for you, creating a beautiful ambiance as well as keeping bugs away. Besides the basics, there is a lot of creative freedom with decor. Just make sure to invest in sturdy pieces that won't be easily blown away by the wind, or knocked over by a running child.
Food and Beverage
Now it's time for the delicious part of planning—the menu. Seasonal dishes and fresh fruits are always a good idea; it keeps each party feeling unique and new. Keep in mind any dietary restrictions that guests may have to ensure that they have something to enjoy, and to prevent them from feeling left out or looked over.
Drinks are just as important as the food—and having fun options is key. A mix of favourite cocktails and mocktails are a good way to keep things interesting, and to be inclusive for people of all ages and preferences.
Time to Entertain
There's nothing worse than a party that feels stale or boring after an hour or so—entertainment is often overlooked. To ensure the party continues well into the evening, make sure that both kids and grown ups are having fun. There are many
lawn games appropriate for all ages
(and sometimes they're more fun for adults). Chalk, bubbles, or hula hoops can keep children entertained for nearly hours on end, as well.
Most importantly, music will boost the spirits of everyone in attendance. Live music is great, but outdoor speakers and a good playlist will do the job as well. A fun mix will keep guests singing, dancing, and laughing well into the night.
With these tips and tricks in mind, all that's left to do is pick a guest list and a theme. Raising spirits and minimizing discomfort is the best way to guarantee a perfect party every time. Now it's just a matter of finding a good excuse to throw a party…but who needs an excuse for fun, anyway?