Psoriasis is a skin condition that many people are unaware of yet over 100,000 people suffer from the condition in Ireland. A campaign has been launched to make young people more aware of this skin condition so that they can talk about it more freely and learn about the causes and treatments.
Broadcaster Blathnaid Ni Chofaigh, who suffers from the condition herself, launched two new information booklets, supported by Pfizer Healthcare Ireland and Psoriasis Association of Ireland, that are aimed at young people living with psoriasis and their parents.
Psoriasis is a chronic skin disease that is most commonly found on the elbows, knees, lower back and scalp. It is not contagious and, while it cannot be cured, can be controlled with the correct treatment. Ordinary skin cells replace themselves every three to four weeks. However, psoriasis accelerates the process and skin cells are replaced every two to six days. This results in itchy, flaky patches of skin.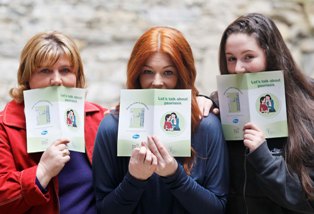 The main booklet,
'Aoife – living with psoriasis'
is targeted at young teens and children, particularly those who are newly diagnosed and may not understand the condition. The booklet features colourful cartoons and deals with Aoife's experience with psoriasis and the difficulties that it causes her.
The second booklet
'Let's talk about psoriasis',
is for the parents of young patients. It explains the condition and gives advice on how parents can help their children deal with condition whether it is in school, in social situations or at home.
Paul Reid, Specialty Care Business Unit Director, Pfizer, said, "We are delighted to partner with the Psoriasis Association of Ireland to help launch the information booklets and hope that they are useful resources for the friends and family members of those living with psoriasis."
Severe cases of psoriasis can significantly impact a person's quality of life and is often a source of embarrassment or anxiety. It is hoped that these booklets will help educate young people on this condition so that they know how to deal with it and how to treat it.