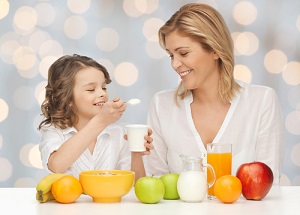 Breakfast is 'breaking the fast', so make sure to start your day ahead with good nutrition!
Mornings can be hectic, especially if you are a working mum or dad. You're rushing to get the kids out to school and yourself out to work. This is where shortcuts can be a temptation!
Breakfast really is the most important meal of the day, especially for children. It could be 12 hours or more since their last meal, so breakfast is the time to stock them up with the supplies of energy and nutrients they need for the day ahead. Nutrient-dense foods are the centerpiece of a good breakfast.
A good, nutrient-dense breakfast boosts concentration, memory and alertness - particularly helpful for kids during long hours in the classroom. Healthy bodies and smart brains need high-grade foods to develop and function optimally. White bread and sugary snacks and drinks can certainly deliver plenty of (empty) calories, but fall well short in terms of the vital nutrients they need.
A good, healthy breakfast can start with anything - even leftovers from the previous night, but always include some protein, as it helps blood sugar levels stay in the 'sweet spot' and keeps cravings at bay.
Some healthy breakfast ideas
Whisk eggs the night before, and leave in fridge for French toast, frittata, scrambled eggs, etc.

French toast – use wholemeal or rye bread

Eggs, any style, on wholemeal or rye toast

Frittata / omelette, vary fillings: cheese, ham, tomato, herbs, green leaves, etc.

Beans on wholemeal or rye toast

Natural yoghurt, with chopped nuts and your child's favourite fruit

Good quality ham and cheese platter

Mashed avocado on wholemeal or rye toast (sweetened with a little banana for younger kids)

Homemade smoothies with some added green vegetables

Wholemeal or rye toast with nut spreads, tahini spread, low-sugar jams

Fresh fruit kebabs with natural yoghurt dip, toasted nuts and seed sprinkles
Maggie is hosting a Wholefood Cooking Class on Sat 7th Feb 2015 called "Taste,

Health; Rediscover and enjoy vibrant Health"
Our Taste Health class is designed for those who wish to enhance their own wellness and
the health and eating habits of their family. This class is much more than just a
cooking demonstration; you will find the day empowering, relaxed, fun, and full of
useful and practical information.
What you get from the day!
Handouts include:
Taste Health! shopping list for pantry and fridge

Tips on sourcing and storing ingredients

Healing benefits of foods: what diseases they help prevent and heal

Nutrient content of foods

Tips on how to implement a healthier diet

Introduction to healthier options: dairy, sweeteners, grains etc.

10-12 recipes: the focus is on a plant-based protein diet, but we do include one

fish recipe on the day. We introduce flavours from around the world. All dishes

are vibrant in flavour, colour, freshness and energy. Whole foods will never be

boring again!

Tips from Maggie on how to adapt dishes to suit your budget or your own

personal situation, including adjust recipes for food intolerance etc.

Andrea Murray, Nutritional Therapist @ TotalNutrition Ireland (Facebook) will

be joining us on the day to answer more in-depth health questions

At Taste Health, we enjoy everything in moderation, including a glass of wine to

match all the lovely dishes demonstrated on the day
Location: 58 Cois Culainn, Loughlinstown, Killiney Co Dublin
www.thesoulfoodco.ie
Tel 01 2814039 / 0872930159