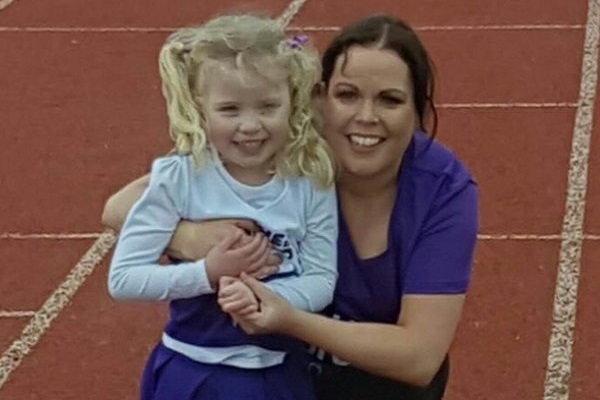 A mother has spoken of her joy after the Government's announcement that 'life-transforming' cystic fibrosis drug Orkambi will be available in Ireland as of next month.
Marie Duffy was told her daughter Grace had cystic fibrosis when she was two weeks old. Grace is five now and is not eligible for Orkambi in its current form, but she says drug trials for younger sufferers are being conducted.
Cystic fibrosis is a genetic disorder that mostly affects the lungs. It causes the body to produce unusually thick, sticky mucus that clogs the lungs and leads to life-threatening lung infections; and obstructs the pancreas and stops natural enzymes from helping the body break down and absorb food.
Mum-of-two Marie told MummyPages that tot Grace has to take a cocktail of around five different antibiotics twice a day, including having to take pancreas drug Creon every time she eats. She said cardio is essential for managing cystic fibrosis: "She jumps on the trampoline in our house twice a day. Cardio helps in shifting the mucus off her lungs."
However, she said that Grace's condition is not currently severe and she is able to be independent. "She's aware of her condition. She just started school and brings her tablets to school with her, but she's able to be as independent as other kids her age."
Announcement this evening regarding Orkambi and Kalydeco pic.twitter.com/3j5RHqKniD

— Simon Harris TD (@SimonHarrisTD) April 11, 2017
Still, the announcement by Health Minister Simon Harris that his department had reached a deal on the costly drug has given Marie hope for Grace's future: "When Grace was diagnosed, we were told she had a life expectancy of 27.
"Three years ago was when Orkambi was in the trial stage. Before that, we thought there was only antibiotics."
The deal has been reached "in principle" on a price for the cystic fibrosis drugs Orkambi and Kalydeco. Drugs company Vertex had initially sought €159,000 per patient a year for Orkambi, but this was reportedly reduced to an estimated €100,000 per patient, although the exact figure is 'confidential'. The drug will reportedly be available from May 1.
Around 550 CF patients in Ireland will now be able to take Orkambi after the final deal is reached.
I still can't believe #Orkambi has been funded! I can't wait to start it! #BeatCF

— Evan Scully (@Evan_STC) April 12, 2017
The HSE ruled out funding for Orkambi - which is still the most expensive drug Ireland has ever bought - in December, causing outrage. In March, hundreds of cystic fibrosis patients demonstrated outside the Dáil in support of free access to the drug,
"I was sitting in traffic on the M50 when I heard the news on the radio yesterday," Marie said. "I was cheering one minute, and crying the next! I was crying for the parents who have lost their children to cystic fibrosis, some very recently. But I am so happy for my child."
Last November, Vertex announced positive results of a Phase 3 study of Okrmabi on children aged six to 11 with cystic fibrosis.
"These new data demonstrate that treating the underlying cause of the disease with ORKAMBI improves lung function in even younger patients," Jeffrey Chodakewitz, MD, Executive Vice President at Vertex said in the release.
Marie said this development has given her family hope that Grace will be able to live a fulfilling life: "She could go to college now, have a career. Have a better life. She'll still have to do her physio and take her antibiotics."
Orkambi has been described as 'life-transforming' for sufferers of CF that have participated in trials.
This sums up the whole 2.5 yrs campaigning for me, with @SimonHarrisTD at Dáil Éireann today #wegotit #orkambi #mymiracle pic.twitter.com/8pj10Efibc

— jillian mc nulty (@jilli09) April 12, 2017
Longtime CF campaigner Jillian McNulty expressed her joy at hearing the news of the deal yesterday, outside the Dáil. McNulty became a campaigner after she saw huge improvement in her own condition after taking it.
"It's completely transformed my life – before Orkambi I would have needed to spend eight to nine months a year in hospital," she told RTÉ Six One news yesterday. "Now it's just 12 weeks."
"I'm just delighted. We're all sharing the emotion," Philip Watt, CEO of Cystic Fibrosis Ireland, told MummyPages.
"The deal is inclusive of the 30 percent of our CF population who still have no drug that treats the underlying cause.
"It's important that this 'pipeline deal' will lead to reinvestment into more drugs," he continued. "Everyone is hoping for a drug that will cover their genotype."
Tomorrow is 65 Roses Day, which aims to raise funds and increase awareness of CF. Why 65 Roses? '65 Roses' is how some children first learn how to say 'Cystic Fibrosis'. The symbol in Ireland for Cystic Fibrosis is a purple rose.