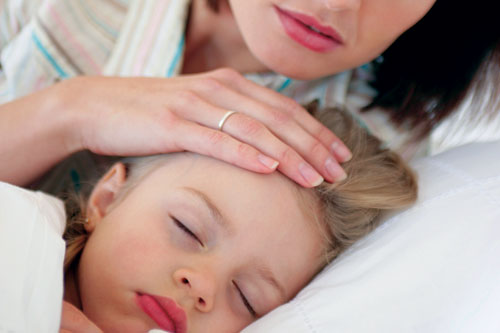 This day last year our lives took a new direction. Kate, my youngest (seven-years-old at the time) was unwell. Nothing unusual, she had a temperature, and was tired and pale. In any other family it would probably not be of major concern but in ours – well, I knew. I had known in my gut for a few days now but was terrified to face it, again.
My son James, my second child, was a year and a half when he became unwell. As with Kate, nothing major, just reoccurring chest infections and general stuff that children of that age would pick up. It was coming up to Christmas. He had turned two on the 22nd December and in the middle of January he really was sickly and looking pale and lethargic. I brought him to my GP, and they referred him to Crumlin that afternoon. Many hours later he was diagnosed with leukaemia.
He was admitted straight away. He was very sick. He was really ill. He was up on blood and platelet transfusions for a couple of days. He was really very low but treatment was started straight away. He had loads of setbacks: he stopped walking and was in a wheelchair for a while. He really struggled for the first three months of his treatment and he spent a lot of time in Crumlin. My first child, my three-year-old at the time, was sent to my family in Cork for a while because we were in the hospital with James. It was a challenge, you know. It took about four and a half years altogether for him to become well again. But he did get well and is now an amazing child, and after those 4-5 years as a family we settled back into life as a normal family again.
Until April 22nd 2017.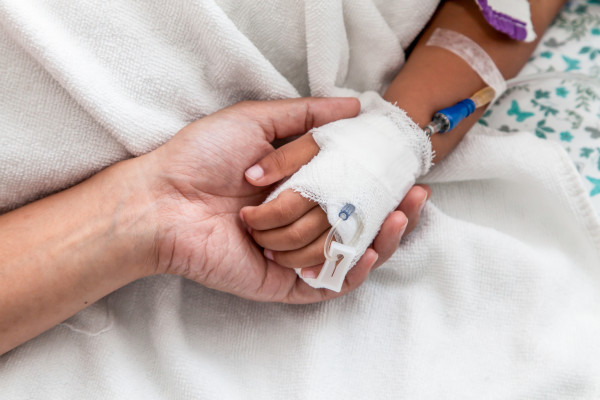 For a few weeks in March and April, Kate, my fourth child, started getting high temperatures. It was just high temperatures at first. Then she started taking little naps during the day, she was looking pale and lethargic and I just knew straight away. I just had a gut instinct that we were visiting the same thing again. For the first few days I was in denial about the whole thing. I just thought, "No, this just cannot be the same thing. It just cannot be the case". I brought her to the same GP. She said, "Not a hope, lightening never strikes twice." She referred us to Crumlin, again.
We came into A&E and I literally said to them, "Look, just do the bloods on her as quick as you can because I have a gut instinct with our history." In two hours they told us that she looked like she was presenting with leukaemia as well. She was seven at the time.
She started treatment pretty much immediately. Professor Owen Smith had been James' doctor and I still had him on my phone so I text him straight away that night from A&E and I said "I think we're in trouble. It's me. I need help." He rang me straight away and called the doctors in A&E. He dealt with them on the phone and said "Yes, Noreen, it's looking like it possibly will be. I'll be in with you in the morning. And we will deal with this together. We will make a plan." We were admitted and Owen came into us. They more or less confirmed it the following day. Then there were a number of tests to determine what type of leukaemia it is and what level she was at. We were sent home for two days to get everything together and digest it, then we packed our bags and came back in for a period of time. Thankfully, Kate sailed through her treatment.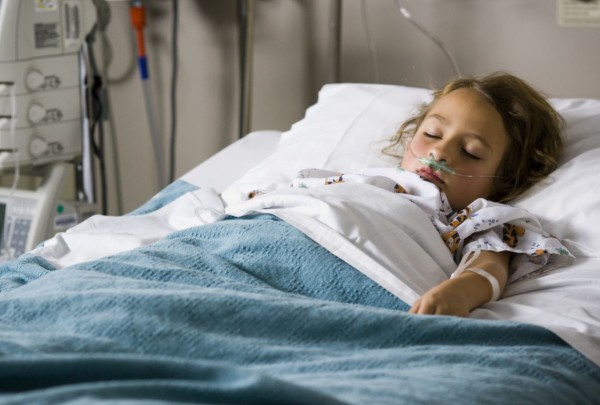 When James was in treatment, he entered a research trial. Ten years later, the results of that trial had an impact now on what Kate's treatment would be. We're benefiting from the research James took part in. The research that happened from James' trial and all the research that followed it across those ten years meant that with Kate's treatment, the prognosis was better, the rate of curing the disease was better, and the length of the treatment is shorter. The research James took part in shaved six months off the treatment length that Kate will have to go through so she has definitely benefited from him being in that trial. Now, we have entered her into a new research trial that, hopefully, in years to come, some other children will benefit from. These trials are critical to the ongoing treatment. But it's not just the treatment, it's the overall care of the child. It's the overall quality of the life that the child has. You must remember that, while they are sick, they are still children. Whilst they are diagnosed with cancer, you desperately, desperately want them to have some kind of quality of life. You don't want the cancer to rob them of a couple of years of their life if you can possibly help them at all. It's so traumatic on them and it's so traumatic on the whole family. It really does feed out to everybody and into the community, like all of the little ones in Kate's class.
When she was diagnosed in April, she was making her First Holy Communion three weeks later. That had an awful impact on the little girls in her class. The mums were concerned and asked questions like 'Will she look different? Will she have hair?' People who've never known a child with cancer, or who've never been around a child with cancer, they just don't know how to react. It causes a certain amount of anxiety.
Kate would tell you, despite everything, that she has had the best summer ever, believe it or not. I'm a very positive person and I try to instil that in my children. I firmly believe that as a parent, you have to feed positivity to your children. They thrive on that. If I'm going to be permanently worried and upset then Kate would pick up on that. Children are so intuitive. We have a very strong bond and we're a very close family. From day one, we told her everything. We told her the truth but that we, as a family would beat this again. We sat her down and we said "Do you know what, it's crap. It's not going to be easy but we're going to try and make it as tolerable as possible along the way but you've got to work with us." She would be naturally bubbly and upbeat, always. So for every milestone and difficulty she'd have, like when she was getting her Freddie in, and getting some of the harder chemo, we'd organise for her to meet somebody she wanted to meet, to go to a concert or do something to distract her, like arrange events that she had to look forward to. I would have no qualms about asking people to help in times like that. People are fantastic. It meant that when she had memories of that awful day or that tough procedure or that difficult injection, it's diluted with positive memories. She had a fantastic few months.
We have met a lot of rugby players. She has a particular grá for one of the Connacht and Ireland players – Bundee Aki. When she got sick she made a list of the things she wanted to do and people she wanted to meet. She always said she'd love to meet Bundee Aki. I said "Kate, OK, I'm going to make that happen." It was coming up to her birthday, she was back in hospital and I contacted him. I asked him "could you send her a card or could you send her a message?"
He made this gorgeous video for her and sent it to her and I played it on her birthday. She cried with excitement. A couple of weeks ago she got to be the mascot for Connacht! She was in her element, let me tell you! Bundee Aki was just fabulous with her, and so was John Muldoon. When she got out onto the pitch with the boys, she was just like Queen of Sheba! She had a ball. She really has thrived. She has sailed through her treatment. She's a hugely positive mind-set.
If you acknowledge how awful it is and then do something to reduce how awful it is, to bring something positive into these moments, then maybe she can still have positive memories of the time she was a child, and having cancer is just a part of it, rather than something that ruins or overwhelms it. She loves Bernard O'Shea and the presenters at 2FM. We got her into the studios one morning. She had a ball. She got taken around the studios and met all the different DJs. People are just so good and to put a smile on a tiny child's face – wouldn't it just make your day?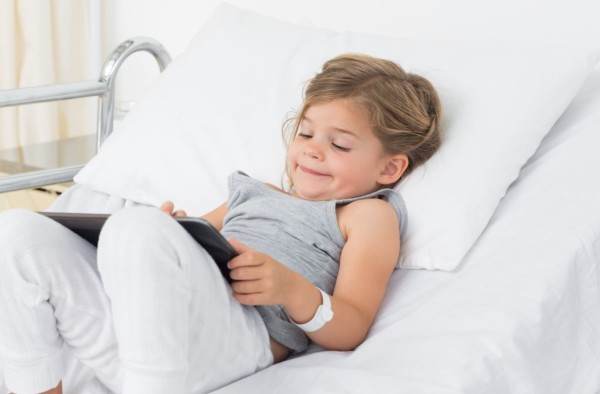 The community reaction has been unbelievable. We live in a small community down in Naas and the school is a small country school. The principal was absolutely phenomenal and the teachers were brilliant. The class made banners and they all made cards and sent them into the hospital. Kate might Skype her teacher during the day and some of the other school staff might come onto the phone to her, just being so supportive and sending in school work if she wanted it, although she didn't have to do it, but it's good to keep things as normal as possible. They are in constant contact. She was treated very normally but at the same time, they were so protective of her. All our neighbours and friends are fantastic and we're so appreciative of the community we come from. When I came in here, all the mums started a dinner routine so that my husband and my other three kids at home were fed properly. We were in hospital for a few weeks and when we came home our freezer was stacked full of the most beautiful dinners. School pick-ups and drop-offs, I didn't have to think about any of it. They were just wonderful!
The staff here are gorgeous, just gorgeous. She knows everybody and all of them just love her. They're lovely. She's making friendship bracelets for some of them now. They come in, play games and make her feel at home.
When James was getting his treatment, he was in the old Saint John's ward, before the CMRF Crumlin investment. The old ward and the new ward are poles apart. When we came in here first with James, you'd be in a room divided into two with a curtain pulled across, so there'd be one child on one side of the room with their family and another family squeezed into the other side of the room. There was no en-suite bathroom - you could be sharing the bathroom with up to eight other families. There was no privacy and you were sleeping on a fold out bed. Here, now, you have your own room, your own en-suite bathroom and it's luxury compared to what it used to be. This new refurbishment just makes it so much better and easier during a very difficult time. Now, when we come in, we make the room our own with fairy lights, her own teddy bears and cushions so that it feels a little bit like home for her. There was no comparison between the old and the new.
I've seen, first hand, the benefit of the money CMRF Crumlin puts into both Our Lady's and also into the National Children's Research Centre. I wouldn't wish a sick child on any parent, but if your child is ever sick, then the best thing you can do is hope there's good research to help improve or cure their illness, and that there's amazing staff and state-of-the-art facilities to help them get better.
images via Shutterstock
CMRF Crumlin are the funding raising body for Our Lady's Children's Hospital Crumlin and the National Children's Research Centre. MRF Crumlin aims to provide vital supports to the young patients and their families and provide cutting edge equipment, and paediatric research funding to help save and improve young lives. More than 150,000 children attend Crumlin each year, and they need more donors and supporters to help and get involved. Visit www.cmrf.org for more info.