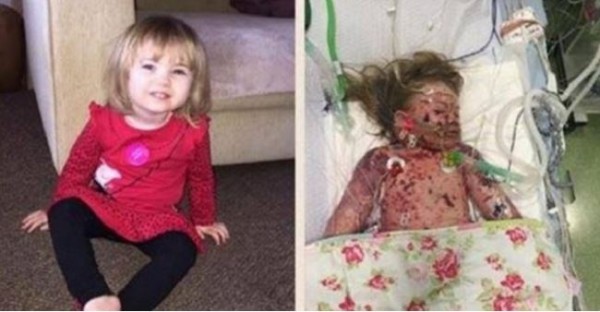 Many families have been touched by the devastating effects of meningitis, and in a bid to raise awareness, the Burdett family shared their story about losing their two-year-old girl to the devastating illness.
Six months ago, Faye Burdett was rushed to A&E after breaking out in a rash on her forehead, and her case was considered so serious that she was transferred to another hospital.
Little Faye battled bravely, but after a few days her condition started to deteriorate as sepsis began to spread throughout her body. Doctors then made the tough decision to amputate both of Faye's legs and one of her arms.
Sadly, the little girl's kidneys failed and she died on Valentine's Day this year.
Look how much Faye's Day in memory of Faye Burdett has raised so far! https://t.co/vTw3b3bdjK pic.twitter.com/7LTvggfQ1M

— Meningitis Now (@MeningitisNow) July 27, 2016
"Recently Faye's little friend down the road did actually ask after her," Faye's father Neil recalled to the Mirror, six months after the little tot's death.
"They were almost the same age. That little girl is on her own now."
Not allowing their daughter to die in vain, Neil and Faye's mum, Jenny, started raising awareness of the meningitis B vaccine, which is only available on the NHS to babies under one. Faye was too old to receive the vaccine.
Explaining how the family are still aiming to get the vaccine made available to under-fives, Neil added: "We are hoping that through this year we will see a remarkable difference in the number of cases."
"Everybody still needs to be aware of all the symptoms. The symptoms are very similar to the flu and some viruses and that is where we were caught out personally was being told it was a virus.
Meningitis B: Faye Burdett parents 'keep raising awareness'.https://t.co/hpGgoHyMM5 pic.twitter.com/bSNGQznipu

— Birmex (@Birmex) June 6, 2016
Urging people to know the symptoms of meningitis, Neil said that if they are concerned parents should insist their doctor test for meningitis.
"Our daughter was fit and healthy; you couldn't ask for a stronger, fitter two-year-old. She had never been ill. That was our downfall. We trusted the doctors," he explained.
"She was taken from us so quickly and so unexpectedly. That is the real shock. Within a few hours of taking her to A&E we didn't see her again; she never regained consciousness.
"We urge people to say to the doctors: I feel this is more and I want you to check for meningitis. If you don't believe the doctor, ask for a test for meningitis. They cannot say no to that. It will save a lot of lives and a lot of heartache."
To know the symptoms of meningitis, click here.
SHARE to spread awareness.