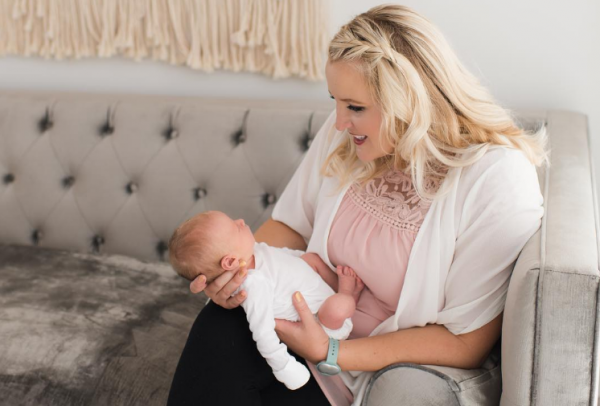 If it's a feel-good story you're looking for today, you have well and truly found it! A US couple are celebrating, after welcoming the world's first 'Ava Baby'.
Now, we know what you're thinking already – what in heaven's name is an 'Ava Baby'?! Well, it's simply a baby conceived after its parents used the Ava Fertility Tracking Bracelet.
The Ava has been designed to hone in on a woman's most fertile days of the month, and in this way help her to conceive. It works by monitoring a range of physical measurements including resting pulse rate and skin temperature.
Lizzie McGee and her husband Sam had been trying to get pregnant for a while when they decided to give the Ava – which is designed a little like a Fitbit – a go.
They spent just under $200 on the bracelet, which is worn at night - and conceived after just three months.
In an interview with USA Today, 32-year-old Lizzie explained: "I would put the bracelet on at night, then sync it in the morning, and find out exactly where I was in terms of ovulating.
"We had been trying to conceive for almost a year. After I started using Ava, it took three months to conceive."
The couple went on to welcome a son, named Jace, this past July. Lizzie admitted that she only tried the bracelet out of curiosity, and is 'so shocked and grateful'.
"I love having the first Ava Baby, I think it's just so exciting. I emailed Ava before I even told my husband," she said.
This is certainly a very interesting story, given how these 'fertility Fitbits' are growing in popularity, with a number of companies producing their own variation.
Interestingly, their effectiveness was also supported in a recent study, published in Scientific Reports, which claimed that monitoring the pulse like this is a great way to hone in on a woman's most fertile days.
So, there you have it, mums – will you be trying out the Ava, or a version? Let us know!