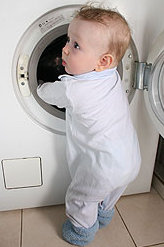 A study released yesterday in the States has shown that more than 17,000 children have been harmed by laundry detergent since 2012. The introduction of small individual detergent packs, which many households buy for convenience sake, has unfortunately led to an increase in accidental household poisoning cases.

Children are attracted to the small colourful tabs or packets which often resemble sweets or toys and, as a result, many infants and toddlers are likely to ingest the contents of the pack if coming into contact with them.

Dr. Marcel J. Casavant, medical director of the poison centre at Nationwide Children's Hospital in Ohio has said: "The 17,000 children we found amounts to one child every hour being exposed to one of these laundry pod products."

Commenting on the design of the products, Dr. Fred M. Henretig, emergency medicine doctor and senior toxicologist at Children's Hospital of Philadelphia said they should have "true child-resistant packaging."

The doctor goes on to say that it doesn't come down to "bad parenting" and insists: "The most important factor in decreasing bad outcomes for kids is to decrease the toxicity of the product itself, or decrease the ability for it to get into the hands or mouths of young children."

Will these recent figures lead to a change in your shopping list?