Shreddies are sponsors of the Parks Tennis sporting initiative for their 3rd year and have chosen Caoimhe Martin, age 6, from Carlow as the 'New Face of Shreddies Parks Tennis'. Caoimhe took part in the course at the Carlow Tennis club in 2010 and has since become a huge fan.
Speaking about the programme, Shreddies Brand Manager, David Carter said, "Caoimhe's picture perfectly captures the spirit of Shreddies Parks Tennis and we are thrilled to have her face on over 40,000 special promotional packs of Nestle Shreddies. Eating healthy and keeping active is hugely important. Playing Tennis is a great way to have fun and keep fit and we are delighted to be giving children all over the country the opportunity to learn from the best coaches. This fantastic low cost programme is the perfect solution for ensuring your child spends time outdoors this summer, learning a sport, staying healthy and making friends".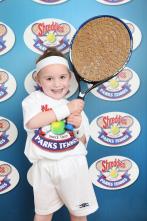 Shreddies Parks Tennis is a nationwide tennis coaching program for girls and boys between 6 and 17 years of age. The classes cater for both beginners and improvers and are held in throughout most of the year. Top tennis coaches are recruited in the summer months to coach children in locations across the country.

This year, Shreddies Parks Tennis will take place in over 180 venues, in all 32 counties. Over 23,000 children took part during the winter and summer programmes last year. There are 330 experienced tennis coaches involved in the initiative and they cater for children of all levels. This is a wonderful programme for children and is a great opportunity for kids to get active and perhaps even discover a hidden talent.
Click here
to visit their site and find your nearest location or call 01 833 8711.