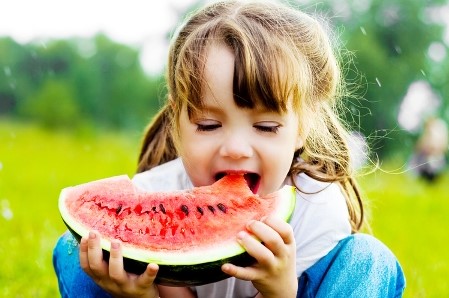 Veganism is one of the most popular foodie movements around, as it's grown in popularity thanks to trendy Instagrammers and an increase in environmental consciousness.
Veganism is a lifestyle in which no animal by-products are used or consumed. So that means no meat, fish, dairy, eggs, or anything that is made from or harms animals.
A whole new community has sprouted up online, where vegan mums document the eating habits of their vegan children, who have never had a cheese string or a a bite of milk chocolate in their lives.
Celebrities like Miley Cyrus, Lucy Watson and Ariana Grande promote the lifestyle choice, but they don't have toddlers and teens to look after.
The mums in the vegan community however, do, and pride themselves on raising vegan kids from conception, despite the controversy.
The children eat extremely healthily, with one video showing a five year old tucking into a plate of lettuce, radish, cucumber, and tomato with relish.
Another shows a toddler munching on raw butternut squash like it's the sweetest piece of cake she has ever had.
However, the community has faced online scrutiny as others question whether it is actually healthy to raise vegan kids, or if a restrictive diet could be damaging them in some way.
The HSE advises that "healthy eating is about enjoying lots of different healthy foods from the four main food groups." These groups include meats and dairy, two massive no-nos for vegans.
The HSE has no official guidelines on veganism, but says of vegetarianism: "it may be more difficult for your child to meet their nutritional requirements on a vegetarian diet, it would be useful to get more advice from your community dietitian."
However others comment that people who feed their children junk food and processed meats don't get half as much scrutiny as those who try to be as healthy as possible through veganism.
"I don't understand why people freak out about having kids eat vegan. They're just eating what the parents give them, like every other family. Think about it, when a kid eats meat they are being forced to eat what the family eats too. It's not their decision to eat the groceries of their parents' choice. If they decide in the future they want to change their eating habits, that's their choice, just like it is in a non-vegan family," commented one Youtube viewer.
Make sure to contact your GP or a nutritionist before making any drastic dietary changes for you or your children.