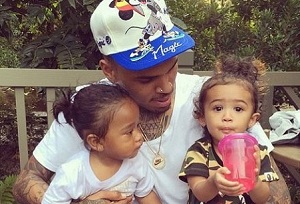 One glance at his social media channels is enough to show that he is besotted with his little one, but it seems that things are far from blissful for rapper Chris Brown right now.
The star, who is dad to a daughter named Royalty, is currently caught up in a legal battle with the child's mother, Nia Guzman.
According to reports, Chris had settled on a deal with Guzman that would see him paying $10,000 per month in child support.
While the agreement was set to come into force on July 1, it is said to have fallen apart when Brown sought a visitation this week only to find out that Royalty was with his own mother, Joyce Hawkins.
Chris is known to have a difficult relationship with his mother, and sources claim that the arrangement left a bitter taste in his mouth.
Brown reportedly filed legal documents earlier this week seeking to establish paternity of Royalty, in a bid to resolve the current custody and child support issues.
Fans of Brown were shocked to hear back in March that he had secretly fathered a child nine months previous. Brown was in a relationship with long-term girlfriend Karrueche Tran at the time, but the couple went on to split after the announcement.