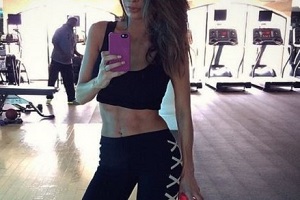 She sadly endured major criticism after simply sharing pictures of her pregnancy figure, but model Sarah Stage has clearly taken the nasty comments in her stride.
The model came under scrutiny earlier this year for posting photos of her incredibly toned stomach while nine months pregnant, prompting many to suggest that she was taking her fitness regime too far while carrying her first child.
Now, the 31-year-old has taken to her social media channels to share a beautiful breastfeeding photo, and it carries a defiant message to her 'haters'.
Posting a picture of herself nursing beautiful baby son James, Sarah wrote: "If you don't like this pic, unfollow me. No need to hate on a beautiful moment with my son."
The proud new mum also followed in the footsteps of the fellow models Nicole Trunfio and Doetzen Kroes as she added the hashtag 'normalise breastfeeding'.
Trunfio herself was also recently forced to defend her actions, after she posed for a photo for Australian Elle magazine while breastfeeding son Zion. Facing criticism for the move, she shared an inspiring Instagram message in which she insisted that women should never feel embarrassed when they need to feed their child.
We love these ladies for speaking out against the criticism. They are truly inspiring and empowering mums all over the world.