Students in the US are not happy with Michelle Obama.
Social media has been awash with complaints from high school teens over new food regulations that have been introduced to make school lunches healthier.
The new rules, which have been championed by the First Lady and implemented by the USDA, have been met with mass criticism, with students saying that what they're being served up is far short of a filling and nutritious meal.
A string of posts shared to Twitter gave an insight into exactly what students are now being served, with meals ranging from a plate of chicken nuggets, a slice of bread and an apple, to another containing two pieces of cauliflower, a few crackers and some slices of luncheon meat.
Another rather shocking picture shows a lunch tray with what appears to be a maggot on it, with the Twitter user writing: "Maggot in the school lunch's green beans. #ThanksObama #timeforcoldlunch".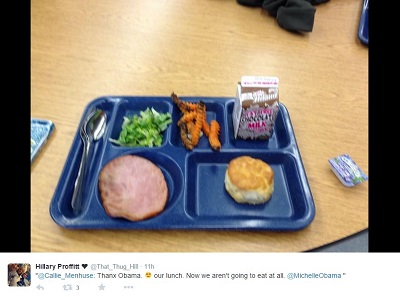 The new guidelines have so far been implemented in 100,000 schools across the country.
Having thrown her support behind these new laws, Michelle Obama has now become the target for the anger and frustration of teens and their parents, but has yet to officially address the issue.