The start of the new school year is always a busy one. Back to routine, early starts, school lunches, playground cuts and grazes, the juggle is real! It is also a time that leans into a change of season, weather conditions and that indoor breeding ground for all things cold and flu related when it comes to little people who like to ensure they are up close and personal with each other daily!
The mix of both central heating and many schools still keeping windows open, it means little ones are more susceptible to catching everything going, so as parents, you want to make sure you're ready for anything!! Tonstix Honey Jelly Pops for sore throats & coughs (€5.95) is the must have essential to compliment every parents medicine cabinet this Autumn Winter. Created by two Irish mother's, Sinead Crowther and Denise Lauaki, Tonstix are an Irish made child friendly honey jelly pop taking pharmacies by storm.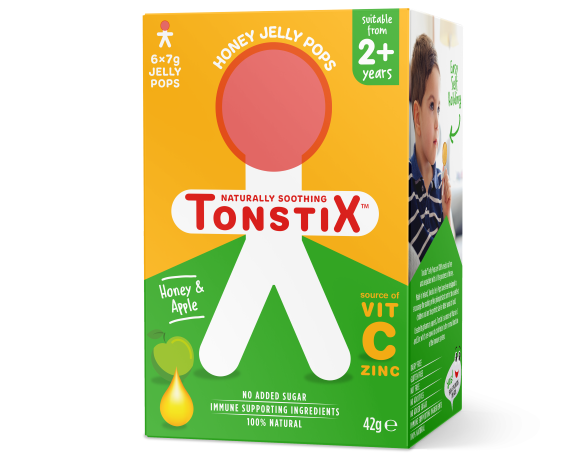 Formulated and manufactured in Dundalk, Co. Louth and 100% medicinal free, Tonstix Honey and Jelly Pops are packed with all the goodness of honey which slowly dissolves to create a coating that temporarily supresses distress. The soothing, lubricating pop encourages the sucking reflex which facilitates lubrication of irritated throats caused by allergies, infections and viruses. Available in two bursting flavours, Honey & Strawberry and Honey & Apple, the jelly is made using only natural ingredients giving a fruity flavoursome taste to appeal to children's tastebuds. With added Vitamin C and Zinc which is known to support healthy functioning of the immune system, it gives an instant comfort to unsettled children and they are the perfect size for little hands to hold!
With Sinead's pharmaceutical background, it was important to marry in-depth pharma knowledge with practical parenting experience in creating a solution to a problem for parents and carers the length and breadth of the country. This innovative, all-natural, child friendly honey jelly pop is suitable for toddlers through to tweens to comfort through all the seasonal ailments.
Created by parents to support parents, Tonstix Honey Jelly Pops €5.95 are available in leading pharmacies nationwide.