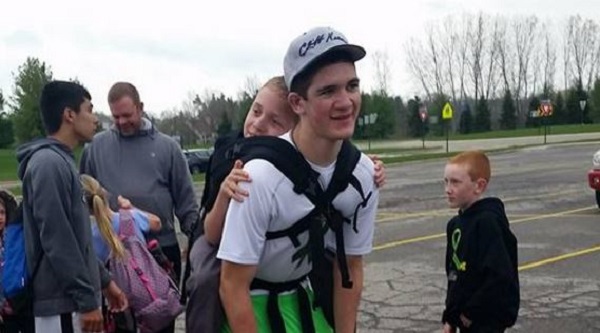 Every now and then, a story comes along that just stops you in your tracks, and that of Hunter and Braden Gandee is one such example.
Hunter and Braden are brothers, from Michigan, and they have been receiving quite a lot of attention this week, after finishing what they have come to refer to as the 'Cerebral Palsy Swagger'.
Braden, who is nine years old, has cerebral palsy, and his big brother – 16-year-old Hunter – came up with the concept of raising awareness of disabilities by doing a walk together. However, this is no ordinary walk; in it, Hunter actually carries his little brother for the entire journey.
Now in its third year, the brothers decided that they wanted to make the Cerebral Palsy Swagger even bigger this year, and they did just that.
After starting their walk last Wednesday, Hunter walked a staggering 111 miles with Braden on his back, until they reached the Michigan Capitol on the following Wednesday.
The whole journey took the pair six exhausting days, and they availed of 32 rest stops along the way. They were, as you can imagine, also well supported by family and friends throughout their tiring trek.
This year's walk has gained widespread attention, which is the whole point – the Gandee family wants their story to inspire others to support and encourage those with disabilities in their communities.
Speaking to the Associated Press, Hunter explained: "We are trying to challenge the world, at all levels, to take the necessary steps toward inclusion."
What an incredible family. Well done to all involved, and no doubt we will go on to hear great things from these boys.
SHARE to inspire a friend or loved one this evening.