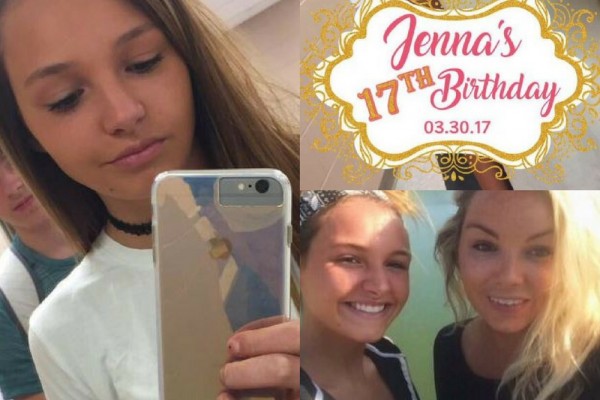 It can be hard to know what teens would like for their birthdays but one American mum created a very special gift – a custom birthday Snapchat filter for her daughter Jenna Fluegeman and friends to use.
A custom Snapchat geo-filter allows a user to make a special filter for a certain location and time.
Jenna's mum had set up the filter to activate at Jenna's school on her birthday, March 30.
Unfortunately for thoughtful mum Tara, when she texted Jenna to ask her about it, she didn't get the response she was hoping for.
Jenna instead berated her saying "Why would you do that?"
The crestfallen mum replied, "Sheesh I thought you'd like it. I guess I just can't do anything right. Whatever."
My mom does the absolute most pic.twitter.com/VPFzZ2EguB

— jenna fluegeman (@jfluege) March 30, 2017
But once the teen shared the exchange of texts between mum and daughter online, the tide turned.
Jenna, 17, found herself being called out for her ungrateful behaviour.
Jenna tweeted a photo of herself using the custom filter which read Jenna's Birthday 30.03.17 alongside a snap of the texts to Twitter.
Some young people began tweeting the teen, criticising her for being ungrateful and asking her to think about how her mum might feel.
One user tweeted Jenna saying: "How dare you? Your mom is an angel and you don't deserve her."
While another sent the teen a tweet saying: "You're super ungrateful. Tell your mom my birthday is in July."
@jfluege mom probably felt so good about surprising you with this, you just broke her heart

— Jacquelin (@jackiecakess1) April 4, 2017
But then some users were inspired by Jenna's reaction and decided to do something positive.
They posted texts they'd sent to their own mums, to let them know they were appreciated.
One boy texted his mum saying: "Hi mom, just wanted to say I love you and I miss you."
Another young girl tweeted a text to their mom which read "I love you mom, thanks for all you do for me."
@sharonparadise9 @ptvlevi @foreverjunias @graciecowcow @RyG4hunnid @xonisa @jfluege Had to do it too. Gotta remind her how appreciated she is. pic.twitter.com/Nmla46PQtX

— Lit Britt (@BeeBoyd_) April 4, 2017
Jenna replied to her critics with this note saying: "For anyone who's wondering I obviously thanked my mom for it and it was very thoughtful but I didn't want that attention from my whole school."
"People will talk about it either way, if I wanted the Snapchat filter I was full of myself, if I didn't, I was ungrateful. You can't please everyone."
Hmm, she certainly has a point but we still think her initial response could've been a bit more grateful!
What do you think mums?