Bare by Vogue's latest launch - Hydrating Facial Mist - is set to become your summer skin superstar. The revitalising Hydrating Facial Mist bestows dewy radiance and gives the skin an enviable luminous finish, with just a simple spritz. Get ready for golden hour…
A 2-in-1 skincare and makeup mist, the refreshing spray promises to instantly hydrate and illuminate the complexion. Simply shake the bottle to activate the shimmer particles and spritz your face and décolletage for a radiant finish - day or night.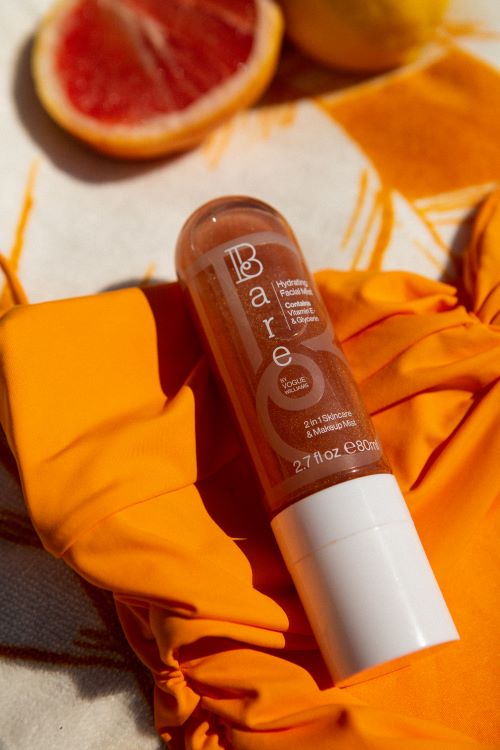 A blend of Lactic Acid, Glycerin and Panthenol help to keep skin soft, smooth and hydrated, while the anti-inflammatory effects of Caffeine and Vitamin B5 help to stimulate the skin's healing processes and increase skin radiance. A thirst-quenching treat for thirsty skin, this is ideal for on the go and is the perfect addition to your summer handbag. The ultimate summer glazed, glowing skin is just a spritz away!
Key Ingredients:
Lactic Acid - Helps to soften and smooth the skin and improve its overall texture
Glycerin - A humectant that allows skin to retain moisture and increase hydration
Caffeine - Promotes glowing, healthy skin by increasing skin radiance
Panthenol - Provides moisture for a more supple feel and appearance
Vitamin B5 - An anti-inflammatory effect that stimulates the skin's healing processes
Blend of 15 amino acids - Aids in maintaining the skin's hydration and resilience
Bare by Vogue's Hydrating Facial Mist can be used in several ways. Apply over makeup for a dewy, natural glow, pop it in the fridge to cool down during the warm summer days, or pair it with your preferred Bare by Vogue Face Tanning Mist or Serum for the ultimate 'Bare face' look. The lightweight fluid of Hydrating Facial Mist combines nourishing hydration with an incredible ethereal shimmering effect, so that you are always good to glow.
How to Use: Shake, Spritz, Shimmer.
Shake before use. Being careful to avoid the eye area, spray onto the face from 30cm away at any time of the day to rejuvenate and revitalise the skin.
"I am all about easy, multifunctional products that work. That's why I'm so excited to add Hydrating Facial Mist to the Bare by Vogue range - it gives a mesmerising shimmer with the benefits of skincare for a glowing, healthy complexion. This is a true hydration hero that smells just as good as it looks! It's the perfect addition to your makeup bag for glowing skin, and I can't wait for you to finally get your hands on it. I really hope you love it as much as I do".
- Vogue Williams
Bare by Vogue Hydrating Facial Mist is available now for €24, on www.barebyvogue.com and in pharmacies and retailers nationwide.