Halloween can be a stressful time for any parent - your child wants to have the perfect costume, but more often than not, they don't actually know who they want to dress up as!
If you and your child are struggling to come up with ideas for a fantastic costume for one of the most special nights of the year, then fear not! We have rallied around and devised a concise list of our top 10 favourite Halloween costume ideas, all based on the wonderful world of Disney.
Whether it be princesses, superheroes, far-away creatures or friendly faces, there is something for everyone on this list - and Disney costumes are always guaranteed to be a hit! Peruse through our top picks below, and see if anything tickles your fancy:
Mirabel
One of the newest additions to the Disney franchise, Encanto became a huge hit earlier this year with audiences around the world - aided by its incredibly catchy soundtrack! The main star of Encanto is Mirabel, a girl who is surrounded by her family's unique and individual magical gifts, but feels like a black sheep because she hasn't got one herself. We fall in love with Mirabel's classic outfit every time we see it - its beautiful embroidered detailing and flowing blue skirt would look gorgeous on anyone!
Moana
If your little one is a water baby, then this one could be for them! Moana centres on a young girl who is destined to become the leader of her tiny island homeland, but she can't help but long to discover what lies beyond the sea. Moana's costume is very bohemian, and is finished off with an adorable stone necklace. The only criticism that we have of this costume is that it is not ideal for cold, autumnal weather - but it is still fabulous nonetheless!
Elsa
Yes, we know - if your child is already a Disney fanatic, then you are likely sick of seeing Elsa costumes. However, she is popular for a reason! Both Elsa and Anna's costumes from Frozen are stunning in detail, but we have always had a preference for Elsa's clothes, particularly her dress from the iconic Let It Go sequence. Regardless of how many times this costume has been worn over the past decade, it will never go out of style.
Olaf
Sticking with the Frozen theme, we couldn't pass it by without mentioning the loveable Olaf! If you have a younger child who wants to experience Halloween properly for the first time, then this would be a wonderful costume for them. They will be the talk of the classroom if you go for this one… plus, every Olaf costume has a hooded feature, meaning that it will keep your little one nice and warm!
The Incredibles
Superheroes unite! If you've got a little boy who isn't super interested in Disney, this could be the perfect alternative! The Incredibles family is filled with powerful, fantastical characters who certainly broke the Disney mould when they burst onto our screens in 2004. Bob, Helen, Dash and Violet all have super-fun costumes for your child to wear, complete with a sleek black eye mask as a disguise. Your little one will love roleplaying in this costume!
Wall-E
Who doesn't love adorable robots? Wall-E is a very underrated but still beloved Disney character, and his costume is even cuter. The best part about Wall-E's look is that you don't necessarily need to go out and purchase a costume - it can easily be recreated from scratch with a cardboard box, some paint and a lot of creativity! If you're looking for something fun to do with your child before Halloween begins, this could be an amazing activity for the two of you to do together.
Stitch
Everyone's favourite alien! Lilo and Stitch has been a fan-favourite since 2002, and although Lilo would also be an incredible costume to choose, we can't help but love Stitch more. There is lots of Stitch memorabilia for you to choose from, making it very easy to organise a costume. If your child doesn't fancy wearing a heavy-duty costume, they could even wear a Stitch-themed onesie that has his face on the hood. Comfy, but still in theme!
Ariel
With the live-action version of The Little Mermaid due to be released in May of next year, we thought it would be timely to include Ariel in our top picks! The curious mermaid who falls head-over-heels in love with handsome Prince Eric, Ariel has always been a favourite every Halloween season. If you're worried about how your child will fare with the mermaid 'tail', there is no need to panic - they are much easier to walk in than they look!
Woody & Jessie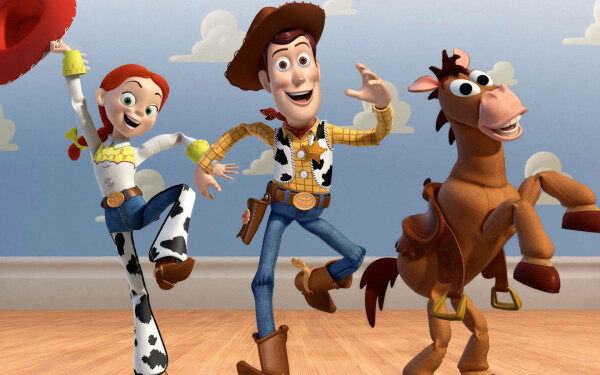 One of the best Disney duos! Our favourite cowboy and cowgirl have been chosen time and time again for Halloween costumes, both for children and us adults. Toy Story's Woody and Jessie are one of those options that can be DIY'd quite easily. Just grab a cowboy hat, shirt, jeans and brown boots, and your little one is good to go. Yeehaw, reach for the sky!
Belle
Lastly, we couldn't not conclude this list without mentioning one of the more old-school Disney princesses! For us, Belle from Beauty and the Beast has always been our favourite. She's intelligent, brave, kind and has, in our opinion, one of the most beautiful Disney gowns of all time. Put your little girl in a flowing yellow dress, hand her a red rose (preferably a fake one, of course), and she will shine on Halloween. A flawless idea!