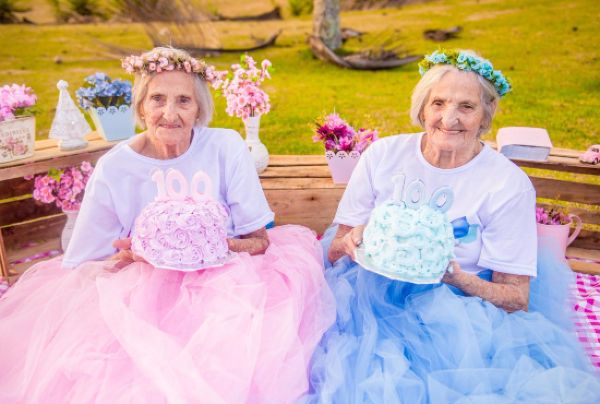 Identical twin sisters, Maria Pignaton Pontin and Paulina Pignaton Pandolfi, celebrated their 100th birthday this month - and did something very special to mark the occasion.
Camilla Lima, a professional photographer from Brazil, reached out to Paulina and Maria, and offered to organise a photo-shoot as a gift to them.
"I had never met anyone 100 years old, let alone twins! I got in touch with their family and offered the photo-shoot as a gift. We were all excited, and they put on beautiful dresses, did their hair and came to the capital to take the pictures," Camilla explained to Good Housekeeping.

These women have had an absolutely incredible life, and are both very proud mothers, grandmothers and great grandmothers.
Paulina has six children, 19 grandchildren and 16 great-grandchildren, while Maria has five children, 12 grandchildren and seven great-grandchildren - not bad, eh?
Camilla shared the photo-shoot in its entirety on Facebook, and captioned the image with a heartwarming message:
"It is with a heart full of love that I show the result of today's rehearsal. I had the pleasure of photographing the oldest twins of the state and the 2nd of Brazil. This is a photo shoot commemorating the 100th anniversary of the twin sisters Paulina and Maria. They will celebrate 100 years of life on May 24."
Camilla went on to explain how she came about photographing the beautiful twins, and how moved she was by the whole experience.
"I saw their report on TV Gazeta ES and I was in love! When do you see such a victory in life? When do we see twin sisters coming together for the centennial? My ladies are too much in these super fun and colourful pictures. I would like to thank my ladies for their poses in the photos and I would also like to thank the whole family who helped me with the photos."
The pictures, which were uploaded on May 17, have since been liked over 96,000 - with thousands of people commenting on how amazing Paulina and Maria looked.
The photos, however, were just the beginning of the twins' birthday celebrations. Carlos Pontim, who is Maria's son, told Gazeta Online that their large family gathered on May 20 for a celebration - how fun.
Happy birthday, Paulina and Maria!