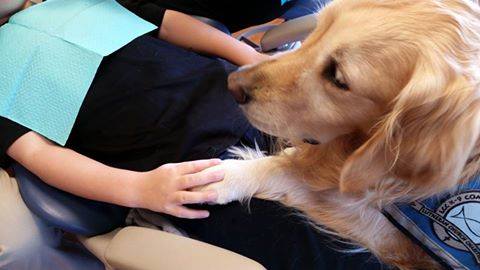 Man's best friend isn't a title given easily!

Whether you're a dog or a cat person or some other creature takes your fancy, there's no denying the happiness pets bring into our lives.
Well this dental office took note and came up with this amazing idea to help kids get over their fear of the dentist.
Introducing JoJo – she is the latest hire at Paediatric Dentistry of Northbrook in Illinois.
JoJo was trained as a comfort dog and is truly gifted at putting people, especially kids, at ease.
The aim is to make children feel more comfortable in the dentist's chair so they won't be scared while they're there (or scared to come back).
"A lot of the time, those patients would need nitrous oxide or other sedative to help them relax," clinic staffer Veronica Renteria told The Dodo.
"But when JoJo comes in with them and sits in the chair, they're comforted. They can just sit and pet her as they're getting their teeth cleaned. She does a great job with them."
And it doesn't just make a difference for the children.
"When the patients are very anxious or scared, they tend to move around a lot," Renteria said.
"When JoJo is there, the appointments go much smoother and quicker for them. And the doctor gets to perform the work as it's meant to be done."
JoJo is such a hit that she is now encouraging kids and their parents to come in for regular check-ups.

"A lot of the patients who normally were very apprehensive about even walking in the door now look forward to their appointments," said Renteria.
"The moment you walk in, you feel very relaxed. There she is, waiting for you to pet her."
She's a miracle worker.
SHARE this incredibly cute story.