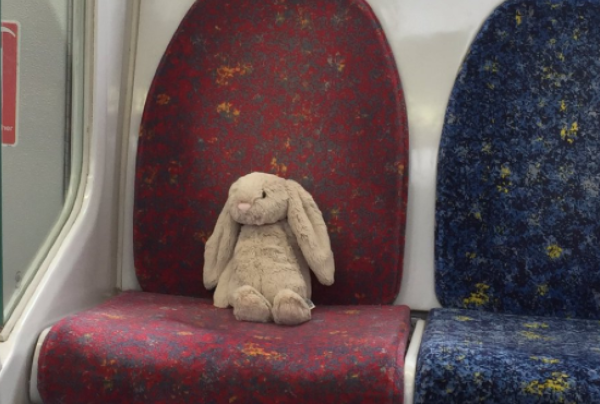 This story of a sad bunny is just what we need today, as it is actually proof that happy endings do exist.
A little girl has been reunited with her stuffed bunny after losing it on a train in Sydney, Australia. Our faith in humanity has been restored.
Last week, the Zhong family were travelling on a train, when the youngest of the family dropped her beloved bunny from her buggy.
The bunny was obviously super sad and lonely after losing his dear friend, but thankfully, Twitter user Andrew Parker decided that no bunny should be left behind, and made it his mission to reunite the toy with it's rightful owner.
I'm sad. A child dropped bunny from pram getting off at Wynyard as doors closed. @T1SydneyTrains please help to reunite! #sadbunny pic.twitter.com/ZEnswqEEHH

— Andrew Parker (@ajamesparker) May 19, 2017
With the help of social media, and a few thousand invested Twitter users, the sad bunny reunited with a very happy young girl - and the balance of nature was restored.
The amazing search started with a photo of the sad bunny, riding on a train alone, looking for his friend.
The search picked up steam as concerned Twitter-users became invested in the reunion, with the hashtag #SadBunny, being retweeted thousands of times.
GUYS... IT HAPPENED!
Thanks to your tireless efforts & @ajamesparker, we've reunited #SadBunny with its owner! #SadBunny is now #HappyBunny pic.twitter.com/hN2KVVu6ID

— Trains Info (@TrainsInfo) May 20, 2017
Everyone was really rooting for the return of the bunny, and posted support in all sorts of fun ways. One Twitter user recruited her own stuffed bunnies to root for a happy ending.
After an intense few hours, Andrew Zhong, the proud dad to the bunny's owner, piped up on Twitter and claimed the bunny as his daughter's - and the two friends were finally reunited.
This story is an uplifting reminder that, despite a lot of the nasty things going on in the world, there really are a lot of kind, decent humans out there.