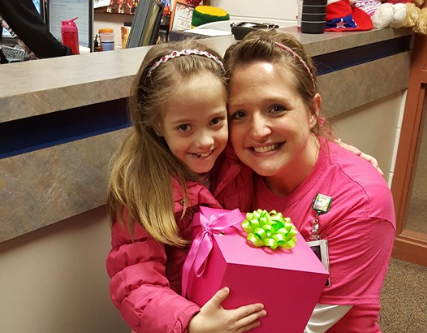 Eight-year-old Tasha Fuller was born with prune belly syndrome a condition which can result in urinary tract disease.
She has been living with her grandparents so she could be closer to the hospital where she gets dialysis while she waited for a new kidney.
In March, Tasha's grandmother Chris was called in to meet Tasha's first-grade teacher Jodie Schmidt and principal Becky Doyle.
Worrying that she was going to be told that her granddaughter had been misbehaving in school, Chris got a huge shock when she realised what was really going on.
Tasha's teacher was not only a match with her student but Jodie told Chris that she wanted to donate her kidney to the little girl.
"This WONDERFUL lady named Jodi Schmidt is a teacher at Natashas school...and she gave the best ever present to Tasha."
Well just over two months later and Tasha is now recovering from a successful organ donation thanks to her incredibly generous teacher.
Her family wanted to thank everyone who supported Tasha's journey by posting an update on Facebook.
SHARE this incredbile story.