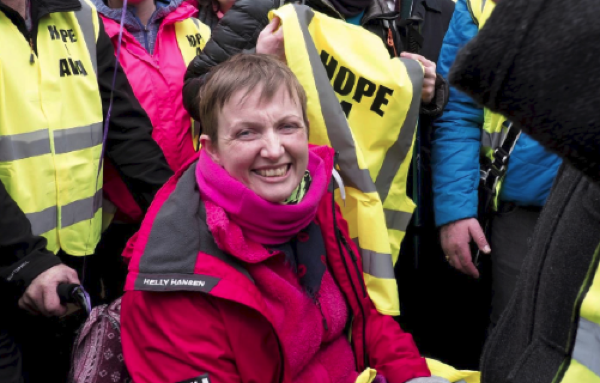 It is a fate that no parent should have to endure – seeing your child in pain, and being helpless, unable to help ease their suffering.
You would do anything to help your children, right?
Earlier this year, Vera Twomey was stopped by customs in Dublin airport, after attempting to bring medicinal cannabis home for her sick daughter.
Custom officials confiscated THC cannabis oil from the mum, following an hour of questioning after she landed.
Vera went to Barcelona to get the cannabis oil, because it is illegal here. Vera's seven year old daughter, Ava, has a rare form of epilepsy and suffers from aggressive seizures.
Vera told reporters: ''I'm not going to come into Dublin Airport like a sleeveen with something to be ashamed of. I have nothing to be ashamed of.''
Vera previously walked from her home city of Cork to Dublin to highlight her daughter's need for medicinal marijuana.
The mum's request was denied because Ava's consultant did not sign off on the prescription, which resulted in Vera travelling to Spain with two TD's to acquire the drug.
Vera has campaigned strongly to get her daughter the help she needs here in Ireland, which included, but has now conceded that she will have to take her family abroad to get the help she truly needs.
Well, in a wonderful turn of events, Vera shared a video online last night announcing that her daughter will start her cannabis treatment tomorrow in Holland.
She posted a video to Facebook explaining that Ava will receive her first dose of CBD and THC medication this morning.
Smiling, Vera told her friends and family, "I'm looking forward to getting going with it.
"We'll begin Ava on the combination of CBD and THC. We were given a number of other supplements to help Ava in the long term.
"The most important thing anyway is that Ava has gained access to medical CBD and medical TCH over here in the Netherlands by a doctor."
Vera continued to say that doctors in Holland couldn't believe how she was treated in Ireland.
"I've met a number of doctors, I've met a number of nurses, all of which are confused and appalled at the fact that medical CBD and THC combined are not part of a possible treatment for patients like Ava."
Previously, Vera has mentioned her concerns about travelling with her young daughter Ava, but has been left with no other option than to travel.
"I hope there won't be other Ava's out there that are forced out of the country, we don't want to go," she said.
Vera has updated her change.org page, where she has collected over 44,000 signatures to raise awareness for her daughter's cause.
We're so delighted Ava is on her way to receiving the treatment she needs.