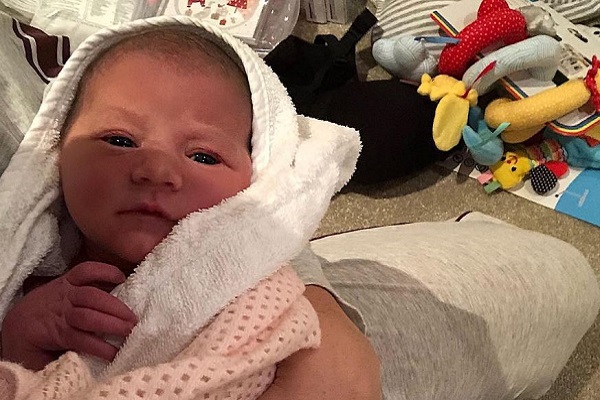 Sam Faiers welcomed a beautiful baby girl into her family last week, but the mum has yet to announce her daughter's name.
Fans were thrilled when the mum posted another photo of her daughter on Instagram on Saturday night. Sam shared the sweet photo with her 1.9 million followers and it is too cute for words.
Her stunning baby girl is wrapped up in a pink blanket in the photo. The proud mum wrote, "Exactly 1 week ago, I gave birth to a beautiful baby girl 11-11-2017."
The mum may not have shared her daughter's name, but she revealed information about her delivery. The former The Only Way Is Essex star shared, "I had a home water birth, it was such a lovely experience."
Sam's fans were delighted to hear the mum had a pleasant delivery experience, but they couldn't help but quiz the mum-of-two about her daughter's name.
The comment section was full of messages of love and support, but the most common message was 'What's her name?"
One said, "Looking forward to hearing an announcement of her name. Congratulations she is beautiful x."
Another added, "Sam, have you named her yet? She is really cute."
One woman commented, "She's so gorgeous! Makes me broody! Does this stunning little lady have a name yet?"
Many fans agreed that Poppy would be a fitting name for the tiny tot who was born on Remembrance Sunday. "Congrats! Maybe call her Poppy as she was born on 11/11 xx," said one fan.
One user commented on the name speculation and stated that the mum may not have chosen a name yet, "They might not have a name yet as they didn't know if the baby was going to be girl or boy, so they maybe have been sitting to find out first."
They added, "Just let her enjoy time with her newborn and you will all know soon enough."
We're sure Sam will announce her gorgeous daughter's name when she's ready, in the meantime the mum can enjoy never-ending cuddles with her stunning daughter.
She has been spending plenty of quality time with her son Paul too, who adores his baby sister. The doting mum posted the cutest video of the siblings.
She wrote, "I must have watched this video over a hundred times already. I am so proud of my babies. Paul is already so loving towards his little sister. My heart is bursting."
Our hearts are melting! Sam's family are so adorable.