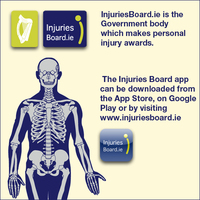 After experiencing a personal injury, be it in the workplace or out on the road, the compensation process can be daunting, especially for already busy mums.
The Injuries Board is the state body that awards personal injury compensation for accidents through a straightforward process. Set up in 2004 by the Irish government, the Injuries Board handles the full range of personal injury cases ranging from very severe injuries to both moderate and minor injuries.
If something does go wrong, you want to know that you're in the best possible hands. The Injuries Board can handle your claim without most of the costs and fees usually associated with personal injury cases. In most instances, it isn't even necessary to instruct a solicitor to pursue a personal injury claim on your behalf.
You can submit a claim directly to the Board for a refundable €45 fee - this reduces processing costs and timelines, making the experience as stress-free as possible for you. They have a team of expert assessors and use an independent medical panel to ensure the full extent of your injuries are determined and reflected in the compensation award.
Last year the Injuries Board made 10,656 personal injury awards delivering a total of €243.5m in compensation to consumers in Ireland. Claimants received their compensation in just over 7 months without the need for lengthy litigation or a Court appearance.
The Injuries Board can be contacted on Lo-Call helpline 1890 829 121 between 8am and 8pm Monday to Friday, by logging on to
www.injuriesboard.ie
, by post at InjuriesBoard.ie, P.O. Box 8, Clonakilty, Co Cork, or on the Board's new smartphone app.