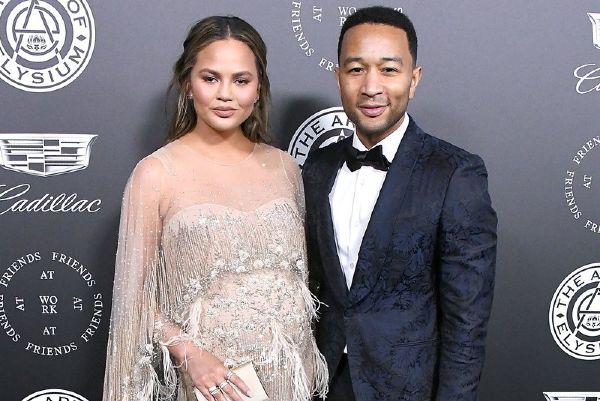 Some might describe model - and let's face it, Twitter spokesperson - Chrissy Teigen as a bit of an open book when it comes to sharing details of her life with the general public. She isn't afraid to use social media to make known her opinions or share her parenting journey with husband musician John Legend with wit and general hilarity.
Which is why, given her willingness to discuss her first pregnancy - she revealed that she'd be having daughter Luna well before her due date - some might be surprised to learn that for baby number two, she wants to keep those details under wraps.
It's not that she's against sharing the news with others, rather that she agreed with Legend's request to keep that side of it something between "just the two of us" - at least for the time being.
"I'm not gonna say. I want to say so bad," she told Extra during an interview.
"We know because we did the IVF route again, of course, and then John was like, 'Let's have something for us,' so I'm giving him that."
Public figure or not, every person is entitled to a private life and with so much getting shared, it's almost refreshing to see celebrity couples keep such special moments between themselves.
Teigen however, was open about her struggles to conceive daughter Luna previously and about the fact that she underwent IVF to do so. She revealed that she and Legend chose to have a baby girl rather than a boy, and the pregnant model has also explained why they made that choice, following the backlash on social media.
Interestingly, though she made the comments last year, the right to choose your babies sex is something that could potentially become a part of regulated fertility treatments in Ireland, should the proposed legislation be agreed.
"I made the decision," she told People. "Not only am I having a girl, but I picked the girl from the little embryo. I picked her and was like, 'Let's put in the girl.' I think I was most excited and allured by the fact that John would be the best father to a little girl. That excited me; the thought of seeing him with a little girl. I think he deserves that bond A boy will come along. We'll get there, too, so it's not like we really have to pick."
"I said it so casually because I'm just open," she continued. "We didn't create a little girl. We had multiple embryos; girls and boys. We simply chose to put in a female first and second. We didn't 'throw away' anything and still would love to have more of both in the future."