There's a super competition happening with VIVIO® Junior Multivitamin Tonic where you can win a family pass to a zoo of your choice. Find out more here.
It's that time of year; everywhere you go there's a chorus of coughs, sniffles and sneezes. And this year, we're more conscious of them than ever. Nowadays, a simple cold can stop a household in its tracks – the school calls, work has to be rescheduled, potential contacts notified, an isolation plan thought out - and the concern that it could be something more has to be grappled with.
So what if you help to support their immunity giving them a better chance to fight these little colds and sniffles, or a better chance of not picking them up in the first place? This is where VIVIO® Junior Multivitamin Tonic comes in.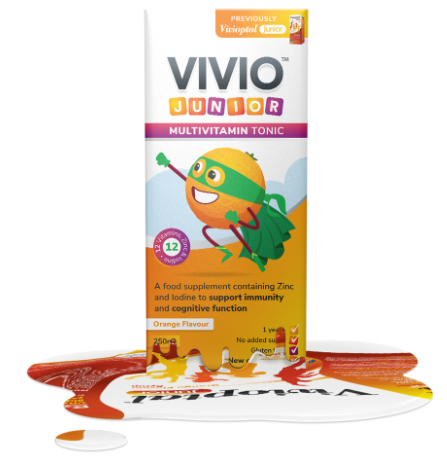 Previously known as Vivioptal Junior, which has been a trusted product for Irish families for decades, VIVIO® Junior Multivitamin has the same 12 vitamins as before, but increased zinc and added iodine to support immunity and cognitive function.
This immune supporting liquid is our go-to this year to shore up our kid's defences before a cold ever comes knocking at our door. Vitamins intake is crucial to allow the body to provide energy, support bone development and tissue repair, all the important processes that keep our bodies moving. VIVIO® Junior Multivitamin gives you one less thing to worry about. Packing your little one's lunchbox full of nutritious food is a great first step, but to really bolster them against the germs that cause infection, a little helping hand is always welcome.
VIVIO® Junior Multivitamin Tonic covers all the key bases in supporting your child's immunity and cognitive function. It actively works to help reduce fatigue, bolster mental performance and with its great taste, there'll be no morning battle to spoon it into them!
To celebrate back to school this year, VIVIO® Junior Multivitamin Tonic are giving one lucky fan the chance to win an annual family zoo pass of your choice! For all the details and to enter, click here.