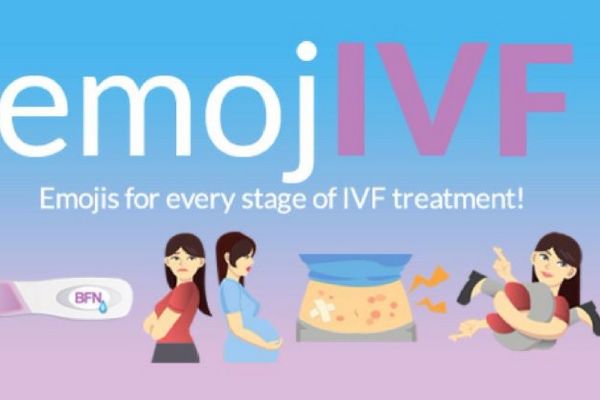 Lizzie Potter's path to becoming a mum was a difficult one. Both of her children were conceived through IVF, and it took three cycles to conceive her son, and eight to conceive her daughter.
The process was not only physically draining but also very emotional, and Lizzie felt quite isolated.
Lizzie explained that, outside of online forums, she didn't have anyone to talk openly to, and didn't know how to explain what she was going through to friends.
"No one talks about doing IVF outside of the forums. It's so confronting. Who do you tell? What do you hide? You're going through a maze of emotions and you're not talking to anyone," she told Essential Baby.

She decided she wanted to make it easier for other mums to share their experiences with friends and family.
She thought emojis would be the perfect way to help that discussion, and created app 'emojIVF', with almost 100 different emojis for every stage of the journey.
The emojis help women to say things that are difficult to put into words sometimes. For instance, women going through IVF often refer to a negative pregnancy test as a "BFN" or "Big Fat No", and there's a pregnancy test emoji with BFN written on it.
Another emoji shows a woman twisting her body in knots and crossing her fingers in the hope that her embryo implantation will work.
Lizzie says emojis could help introduce humour to what is often such a difficult and painful topic.
"Emojis are fun and funny - and making light of it (doing IVF) was a big thing for me. There are the times when you're eating five pineapples because there's word out there that that helps. Or standing upside down so the embryo doesn't fall out.
"And there's also just really horrific times when you're crying quietly on the train because you've just had a call from the nurse and you're not pregnant - again."
While on IVF forums online, Lizzie had noticed that a lot of women used humour as a tool to help them cope while going through IVF.
"You have to make light of it," she conceded. "You're on the brink of madness a lot of the time. It's so painful and stressful."
While there were some difficulties with certain emojis - for example, Apple wouldn't allow a syringe emoji - Lizzie was able to rework the ones which didn't make the cut.
Her app has already made people in her own life more understanding and aware of what IVF involves.
"My best friend said recently she was sorry she wasn't there for me," Lizzie said. "She just had no idea about the detail involved."
The app is available from the app store and will work on all phone types. For more information, you can visit the emojIVF Facebook page here.