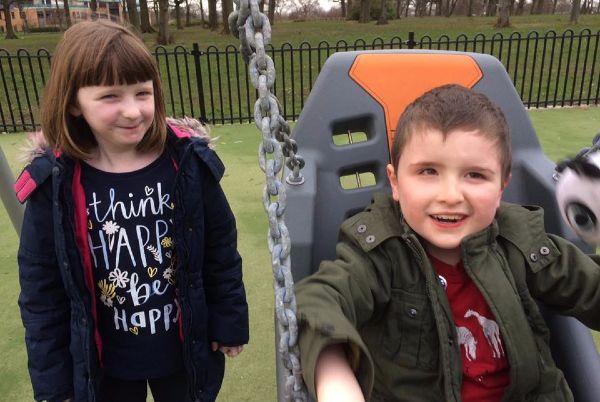 Recently, a new park was built near Naomi and Isaac Gwynne's house in Hamilton, but Naomi was upset when she realised that her twin brother wouldn't be able to use the new swings there.
The gorgeous eight-year-olds have autism, but Isaac also has visual impairment and severe learning difficulties as a result of a brain tumour, meaning he cannot hold on to a swing.
Naomi decided to take action about the swing situation, and wrote a letter to her local council, requesting a special swing for her brother.
New park by my house. My daughter is disgusted there is no swing for her disabled twin brother. Can you help me share this? pic.twitter.com/iVaVHJs3wM

— Miriam Gwynne (@GwynneMiriam) March 19, 2017
The kid's lovely mum, Miriam Gwynne, shared her daughter's letter on Twitter, which read: "I like the new park but please could you make a disabled swing for it?
"Isaac, my twin brother, is too big for a baby swing but can't hold on to the bars of the grown-up swings. His favourite thing is a swing and we are both sad. Why did you forget about him? I have drawn a swing he would like. Thank you."
The sweetest part of this story is that Miriam had no idea that little Naomi was even writing the letter, until she asked for help with spelling the word "disabled".
The local council's head of facilities, waste and grounds services confirmed that the new swing had been installed, and said that: "We are delighted that we were able to help on this occasion and hope that Naomi and Isaac can both continue to enjoy the play area and its facilities."
Naomi's letter went viral for all the right reasons, and a new swing was fitted in the park especially for Isaac. Miriam shared a picture of her twins at the park together, and it will bring you so much joy.
In response to the fantastic new swing, Naomi said: "I am so happy now and we can swing together. It will be so nice. Can I push Isaac on the swing please?"
The proud mum also had her say on the situation, and what she learned from her daughter: "We should be looking to include as many in the community as possible when planning and designing especially things for children. It should never take a child to show us how to do it. Let's learn from Naomi and not forget children and adults with disabilities."

What a fabulous story!