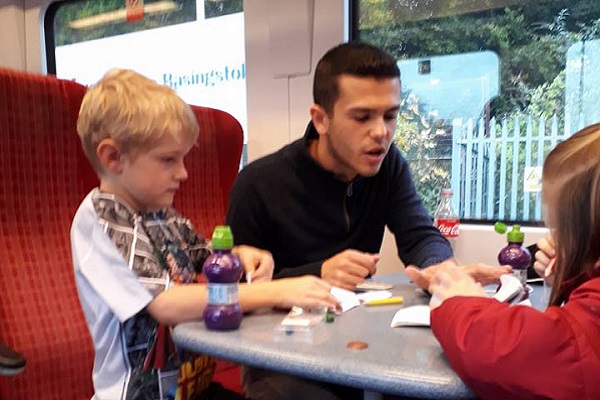 This young man's random act of kindness will warm your heart. When single mum Gayna Pealling was traveling with her children, her son Jack, who has ADHD and autism, started to have a meltdown.
Many people will ignore children acting out in public, but one man noticed Jack struggling and kindly helped the young boy. 21-year-old Dan refused to ignore Jack and went out of his way to help calm down the young boy.
The grateful mum took to Facebook to thank Dan, "Omg this guy is my hero. My son has ADHD and autism, he started to have a meltdown. There was a couple that were chatting with him at first then this random, lovely stranger called Dan took over and was talking to both my children. He calmed my son down on the train journey, [he] was perfect. Thank you to this man, you really don't know how much I appreciated your help xxx."
Dan's sweet gesture has been praised highly by fellow mums. He encouraged Jack and his little sister Amy to colour and play games on the train.
The everyday hero told the Evening Standard about the experience, "People were starting to tut. It was a Saturday afternoon slow train and he was climbing over seats and stuff."
He empathised with mum Gayna, he is aware that many people don't understand ADHD and presume she's being a careless parent, which isn't the case at all.
When he spotted Jack acting out he stepped in to help Gayna, "Jack gave out a roar and refused to take his tablets and his mum was struggling to get him to take them."
Dan shared that his own mum has worked with special needs kids which helped him develop a greater knowledge about disorders like ADHD.
The Facebook post was flooded with loving comments and has received hundreds of likes. Dan spotted the viral post which encouraged him to start fundraising for those who lives are affected by Autism.
The young man set up a JustGiving page to help raise money, he set a target of £1000.
He wrote, "Recently, a post on Facebook made me realize just how many people's lives are affected by Autism - whether it's having it themselves or supporting a family member. Hopefully - we can make a bit of a difference."
Dan has raised over £1400 so far, he plans on donating the money to the National Autistic Society.