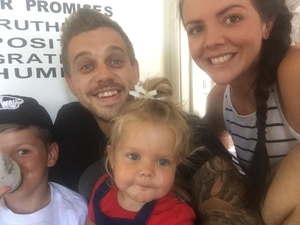 TV shows and movies have poked fun at "the talk" for years but that doesn't make it any less of a daunting task for any parent.
However, lets share a little sympathy for Mel Watts who had to have the conversation with her son a little earlier than expected.
After her nine-year-old heard mum and dad having sex, he confronted her for some answers.
The Modern Mumma blogger shared about her experience on her Instagram in what makes to be a hilariously honest post.
"'I thought dad didn't want another baby?'" she captioned a collage of images of her awkward facial expressions.
"In that moment I knew he was pretending to be asleep so he wouldn't get in trouble, when in fact he was wide awake.
"This morning I wish we had that talk long before he heard about it.
"Not from other people. Worse. But through thin walls."
The mum went on to share that it wasn't so much that he heard them but what exactly he heard.
"You see he didn't hear amazing passionate sex.
"He heard 'well that was a waste of a load' from me and oh my favourite part 'that was the worst' courtesy of the husband.
"Which it was."
But it seems the conversation went well as her son just had one request for his mum.
"Well all he said was "could you possibly keep it down when you have sex?" To which I replied "Sure buddy, I'm sorry."
SHARE this hilarious post.