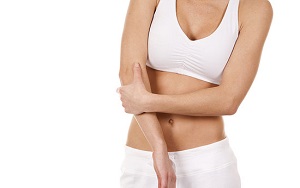 Tendon irritation felt in the thumb or wrist and into the forearm is a common issue in post natal women. It is known as de Quervain's syndrome (or "Mommy thumb", on the internet) and is caused by the everyday act of repeatedly picking up your baby.
New mothers are particularly susceptible to thumb and wrist pain, because fluid gain experienced during pregnancy can cause the tendons to swell and rub against their surrounding encasement. The ligaments and joints become lax toward the end of pregnancy to give a woman extra flexibility for the birth. In this compromised state, the tendons and muscles are then required to pick up and put down a growing baby many times a day, and can quickly become irritated.
It is important to diagnose this and start treatment as soon as possible. I often see mothers who are unable to pick up their baby due to severe pain and weakness, after a few months of trying to struggle on. This injury can happen to new dads too. If any of this sounds familiar to you, don't delay, get in touch with your Chartered Physiotherapist for help.
In the meantime, you can try this at home:
Ice the area every two hours – a bag of frozen peas works very well as it surrounds your wrist and thumb area. Wrap the ice in a cloth to prevent an ice burn and apply for 10 minutes at a time (especially after feeding baby)
Use pillows for support when feeding so you are not holding baby during the whole feed
Wear a splint daily, especially when you are lifting baby – put it on during your night feeds to lift baby and latch him on
Ask your partner to take over the lifting of baby as much as possible, and take help from friends and family when you can, to give your wrists a rest
Avoid thumbs cocked up into an "L" shape; this happens commonly when holding baby in one hand, facing away from you
Avoid lifting with your fingers under baby's arms and thumb cocked up in front – keep your thumb against the side of your hand as you liftAvoid using your smart phone – scrolling and typing will make this injury much worse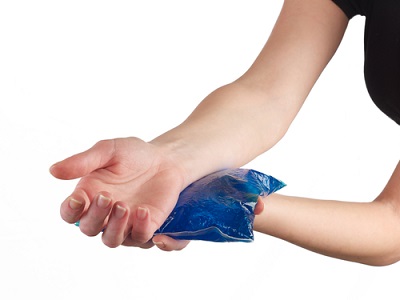 Treatment includes icing the inflamed tendons, taping or bracing the wrist for support, and loosening the tight and tender tendons and their corresponding muscles. Your Chartered Physiotherapist can advise on correct lifting technique, protective splinting and a gradual strengthening programme. In very persistent cases, an injection may be required, but if you deal with it as soon as you notice the symptoms, this can usually be avoided.
Please note
If you have pain or any concerns while pregnant or in the post natal period, please report them to your Chartered Physiotherapist, GP or obstetrician ASAP. Do not suffer in silence. If in doubt, get it checked out. Not all aches and pains are normal and it is important to resolve any issues that are affecting your ability to go about your daily business.