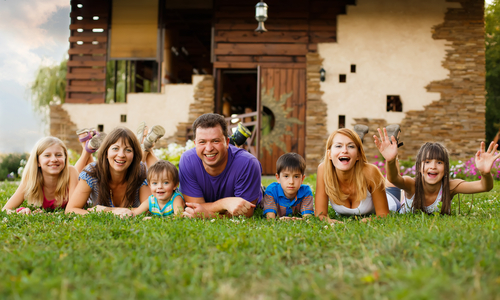 Nowadays, if you have more than two or three kids you are considered to be a mum of a big family. Unfortunately, handling more people than you can count on one hand is not the only thing you have to deal with.
Here are 10 things that mums of big families have to contend with:
People asking when you'll stop having kids
Well, one) it's none of their business and two) how rude of them for asking. You'll stop when you want or when your finances tell you too.
The endless shopping list
More people in the house means more mouths to feed and a trip to the grocery store can often last an entire afternoon. Although you usually just go for the peace and quiet.
The washing
It seems like the washing machine is constantly on and there is always a pile or two of clothes waiting to go in. Will it never end?
The noise
Imagine the noise a party of kids can make. Now image this, Every. Single. Day.
The birthdays
More kids mean more birthdays and more presents. Your stomach does a flip when you realise you have yet another party to plan and you still haven't gotten over the last one.
There is no alone time
The only way you ever get peace is either at the grocery store or when you are sitting in the bathroom. But even at that you will always get a little knock on the door asking "what are you doing in there?"
Holidays are expensive
Seriously, if they did a large family holiday package deal you'd be the first one in the line to book it.
TV time
Nobody ever wants to watch the same thing so you have resorted to having at least three TVs in your home. What quality family time?
After school activities
Sometimes it feels like you should just set up camp in the car you are in it that often. It's a lot easier than finding bus fare for everyone, though.
The love
The more kids you have the more hugs you get, the more times you hear "I love you" and the more kisses you get at bedtime.
You wouldn't change it for the world.