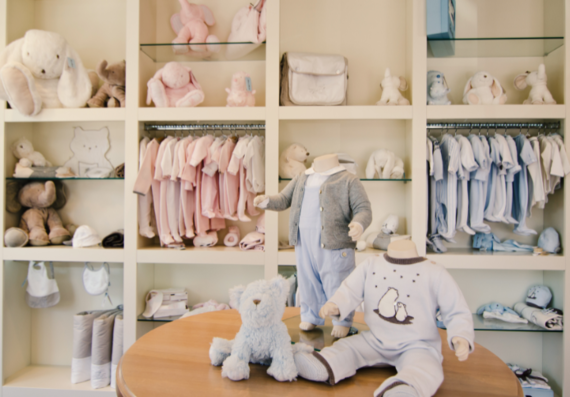 If you've decided to start your own baby clothes business or you are still uncertain about taking the plunge into the world of business ownership and entrepreneurialism, here are our top tips to getting starting and launching your own brand. From your initial designs to marketing your products to the world, these top 10 tips will get you started with what you need to consider when thinking about creating your own clothing business.
Do Your Research
The baby clothes market is busy. This can be considered a great thing in terms of potential and a difficult thing in terms of heavy saturation of the market and strong competition. When it comes to starting your own business, research is always critical and within the clothing industry, this couldn't be more relevant.
Use your online resources to dig deeper into your baby clothing competitors. Those doing very well, as well as those struggling, can teach you important lessons about pitfalls to avoid. When looking into each of your close competitors, look at their target customers, their product mix, pricing and their marketing channels and work out what you can learn from each of them, as well as ensuring you stay up to date with what they're doing.
Also, learn to research about the business and clothing industry if you're new to the world of making your own clothes. Self-learning and up-skilling will be critical to your businesses success.
Pick A Niche
Your baby clothing business will have started from an initial idea. Ensure that you choose or create a niche that has demand and, especially at first, stick to that niche and develop a brand that caters to its needs and desires.
Rather than worry about excluding certain customers by opting for a specific niche, consider it a more powerful way to deeply connect with people who really need and care about your products. Casting your net too widely could result in too few customers with a real interest in your brand, whereas concentrating closely on a smaller specific group will ensure your products and brand are both much more engaging.
Start to Build A Brand
From the very beginning of your planning stages, begin to build a brand that really speaks to your target customer. Also make sure to
incorporate in the US
for example, if that will be your main area of operation. Create a brand story that makes an impact and inject this brand ethos into everything you do from choosing the right production supplier to each piece of preliminary marketing material.
Plan A Budget
Although plans and budgets will have to change and adapt as your business starts to develop, it is useful and necessary to begin with some sort of budget plan in place to prepare you for what you need to spend and in which area.
Even if you plan to do the majority of the work yourself, you need to consider how this will impact your finances and whether you will need to create an income stream in another way until the business takes off and is making profits.
Find A Clothing Manufacturer
Once you have your designs and some more specific plans in place, you will need to locate a garment production factory to make your baby clothing for you. Using the platform
Sewport
to find clothing manufacturers, you can connect easily with small batch manufacturers and clothing factories in the UK and Europe to help you start to move forward with your production plans. Without having connections in the industry, Sewport makes it straightforward to speak with clothes making companies, ranging from cut and sew manufacturers to full package services, starting from pattern work to finished garments and packaging.
When selecting the right clothing line manufacturers to work with, you will need to consider the type of relationship you want with your supplier and be open and straight-forward with your expectations and timeline requirements. Remember that when it comes to fashion, things don't often go exactly to plan.
Sample Sample Sample
When you've chosen the right clothing factory to work with, you will need to get started making your initial samples. Seeing your products made up in real life will allow you to make crucial changes to the tech packs for each item, making sure everything from fit to trims is perfect.
"Don't be afraid to re-sample as many times as you feel is necessary." A top tip from
Sewport
business owner, Boris Hodakel, sampling is a necessary part of the journey to creating a garment line and it is invariably better to delay the launch of the perfect product than to launch with a sub-standard finish due to rushing the sampling stage.
Build Your Website
Start to build your website as early on in the process as you can. Not only do you need to do simple things like securing the domain name of your brand, but you also need to take enough time to create your online "shop window" and make your e-commerce store is as good as the products themselves.
Pre-Launch Marketing
When it comes to marketing your baby clothing line, you don't want to wait until the day you launch to begin. Start to create interest and drive traffic to your launch page on your site as soon as you're ready by using social media and starting to build an email database.
By doing this, you have customers to personally email on the day of your launch and followers to inform, ensuring that on your first day, you build traffic for your site.
On-Going Marketing
From the beginning of your business planning, work out how you plan to market your business and who is going to be responsible for it. From time-only marketing channels, such as social media to paid advertising on Google and Facebook, you need to learn which channels will work for business and the best possible ways to reach your customers.
As digital marketing is key today, create a digital marketing plan, incorporating every channel you plan to use from website blogging to twitter posts, outlaying either the time spent by you or the costings for outsourcing help. You can then start to create and drop in the content in advance, helping you to stay on top of your outreach and ensuring you're never posting content that doesn't fully represent your brand.
Evolve
Eventually, you will be able to evolve the brand and scale up. By learning from your first few months you can make changes to your product mix by listening closely to your customer feedback and creating products that will grab their attention for all the right reasons.
Starting your own baby clothes business might just seem like a pipe dream but by starting to take the initial steps in creating your own brand, you might just find that it's more achievable than you first thought. Starting small and scaling up is the best way to ensure a successful launch, allowing you to learn the process along the way and become a professional and wildly successful clothing entrepreneur.